Benefits of visiting our high street stores
Posted by Vape Superstore on
BENEFITS OF VISITING OUR
HIGH STREET STORES
Posted at 5:00 • 29 Aug • News
---
With a world of online shopping available 24/7, 365 days a year (and at Vape Superstore, with free shipping for orders over £20) it's certainly a convenient way to buy. However - with today's high street upping its game to compete with its online counterpart, there are plenty of reasons to visit your local bricks and mortar shop. Whether you're a new vaper and need some guidance or are a more experienced practitioner looking for some new kit - with stores across London and in Reading we can give you that real-life experience as well as the online one.
WHAT ARE THE BENEFITS OF SHOPPING IN STORE?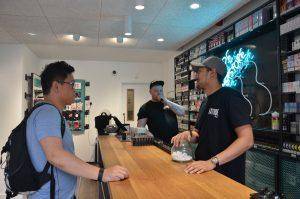 If you're just starting on your journey into the world of vaping, sometimes a bit of in-person help is just what you need. Aside from choosing your first vape you'll also need some guidance on choosing the right nicotine strength for you - we can help you out based on how much you're currently smoking. With the staff at Vape Superstore made up of ex-smokers we know how to advise you on the best kind of device and liquid you'll need to get going.
A bit like when Harry went to Ollivanders to buy his first wand, it's nice to have someone there to guide you to get it just right the first time. For some people, it just comes down to going in to look at all of your options in person to get a feel for what you can actually get. Likewise if you're looking to go from a standard mouth to lung model and take the next step up and get into Sub ohm vaping, we can help you with that bit too. Especially as when it comes to Sub Ohm devices, there are even more options and ways to customise your experience.
Whether you need some advice on which juice to try, can't remember which coils are compatible with your vape or just want some troubleshooting advice, we'll be able to help you out. Our team are a friendly and knowledgeable bunch - so pop in to your nearest vape store and get some on-the-spot advice.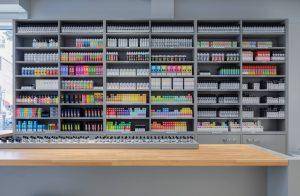 Everyone is searching for that perfect match - and by this obviously we mean vape juice for your personal tastes. When you come in store we have a massive variety of our e-liquids available to try, some liquids are nice for a while but the best thing is when you find your all day vape that you can happily puff away on for hours without getting bored.
If you're apprehensive about committing to a larger short fill bottle, or just want to give something new a whirl you can do that in store. Likewise, you probably wouldn't invest in a new car without taking it for a drive first so when it comes to vape kits themselves (given some kits require more financial investment than others), we have a number of options for you to try out in store. Whether it be a spare vape that's more pocket-friendly than your usual box mod, an upgrade on your current model or you want to try a tank that's compatible with your current mod - we'll be able to help. A lot of tanks and mods from different brands are compatible with each other thanks to the 510 connector that's a standard feature on most vapes (the little bit that screws the two pieces together). What this means is, even if you find you love a SMOK mod, but prefer an Innokin tank - you can have both. Aside from all of this - with so many options to choose from, sometimes it's just nice to be able to talk to someone in person. Getting instant feedback and speaking to someone who can give you a recommendation will help you find new products you might not have previously considered (having hundreds of options to choose from can be overwhelming). With your taste in juice being so personal, our friendly staff can give you some great recommendations when you want to try something new.
For those black-belt vapers who are ready to build their own coils but want some guidance and hand-holding first (we don't blame you), we also run coil-building lessons too. We can help you with the whole process - from talking you through the kinds of wire you'll want to use, how to thread your wick to testing the resistance of your home-made coils. We'll show you what's what from step one through to completion so you can create bigger clouds and get more impactful flavour than ever before. Likewise, if you've yet to even purchase your first RDA or RTA we can help you choose one that suits your current mod while you're at it.
REWARDS AND LOYALTY PROGRAMME
Everyone likes freebies and discounts, so when you shop in-store you can pick up loyalty points there too. You get 5% back on everything you buy - essentially what this means is for every £100 you spend with us, you get £5 back to spend in store.
TOP BRANDS ACROSS THE BOARD - INGREDIENTS, QUALITY AND LEGITIMATE PRODUCTS
When you're buying from Vape Superstore, you can always rest assured you're getting the best quality and authentic products. We hand-pick, test and try out all the vapes and juices we stock in store meaning that when we make a recommendation for you, we really know what we're talking about.
LOCATIONS - WITH OUR 6TH STORE OPENING WE'RE SPREADING FURTHER OUT
Only a few years ago, we opened our first store in Dalston. Now, we're up to six stores with our latest shops having opened in Blackhorse Road and Goodge street. Whether you're in Soho, Peckham or Reading you'll still get the great service and support you'd expect. Our stores are all situated conveniently close to tube and train stations - so even if you just need to pop in after work for a juice top up there's one near your commute. We're open until 8PM during the week too meaning you won't need to rush to get to us before closing either.
SPECIAL OFFERS - MANAGERS WEEKLY SPECIALS
Each store also has special deals on you won't always find online too. The managers will choose their favourite juices for the week and have them on a special discount (great for if you want to try something new). There's also often kit discounts and end of range products so you can pick up a great deal for an extra affordable price.
NOT NEAR A STORE RIGHT NOW?
Of course if you're not in the London region or Reading, you can still benefit from our top customer service. You can give us a ring or drop us a message with your questions and we'll give you a personal recommendation based on what you're looking for. Likewise if you want to top up on your favourite e-liquid or need some replacement coils - our online store is always open.
www.vapesuperstore.co.uk contains general information about vaping and vapour products. The information provided is not medical advice, and should not be relied upon unless explicity cited. We do not make any warranties surrounding the health benefits, reliability and accuracy of written copy across all pages on our website, including blog content and content posted on social media.
---
Share this post
---