Juul and the Alternatives
Posted by Vape Superstore on
Posted at 5:00 • 23 Nov • Tech
---
Brits are the kinds of people who can get knocked over by a bike (and apologise to the cyclist). If manners weren't such a thing, we'd probably see people walking into any of our seven stores, grunting "JUUL", paying and walking out.

The vaping device that looks like a USB drive and delivers smooth-tasting nicotine in #BangOn flavours now has a 72% market share in the US. It's probably the only vaping product that gets as much coverage from the 2 a.m. BBC Business Report as it does actual reviews. We profiled JUUL - What Is All The Fuss About? Now we're here to talk Juuling, plus what else is on offer- choice is, after all, your right as a consumer.
"For some vapers, a heavy-duty box mod the size of a small gun is 100% where they want to be. Let's face it, though. Popping outside the office with a SMOK Alien is about as impractical as attempting to carry one on a train (vaping is banned on public transport- take note)."
When we covered the top pod kits around, we were talking to anyone wanting a discreet, portable, all-in-one device that's easy-to-use, convenient to carry around and well-priced. Basically, the best vape starter kit. Considering that part of getting a JUUL is choosing JUUL pods, yes, it's a pod kit (although it's also a vape pen).
POD KIT BASICS, IN A NUTSHELL
Compact, powerful, fits in your palm, performance won't make you facepalm

Ready-prepped coils, plus fuss-free, disposable e-liquid pods

Pre-filled or blank pods that you just snap in (high nicotine, nic salts available)

Mouthpiece draw mimics the cigarette experience

USB charging works on any laptop or similar setup
Refilling tanks, changing coils, zillions of settings and bulky size just don't apply to pod kits. Our best-sellers include the Aspire Gusto Mini, Suorin Drop and SMPO Pod Starter Kit.
JUUL OVERVIEW - WHAT IS IT?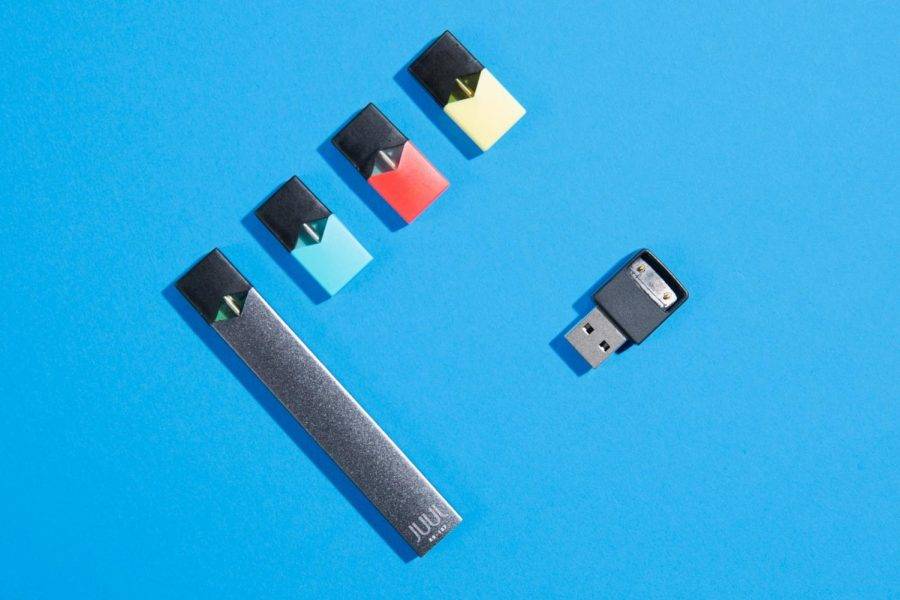 JUUL is a pod kit-style vape pen that offers knockout performance for something that comes with a #ItstyBitsy. Interestingly, the JUUL website doesn't have a giant section on "What Is A JUUL?" Hi-tech simplicity is where these people are at.
Our stores are where you guys are at (seriously- it's reached the point where we almost expect people to ask for it).
"Most importantly, JUUL works with nic salts. A single JUUL pod contains as much nicotine as a pack of cigarettes. It's literally a godsend for quitting smokers."
For more on nicotine salts (which deliver nicotine at the approximate speed of a cigarette), click here.
"UNLIKE ANY E-CIG OR VAPE" AND YET, THERE'S OTHER STUFF. EXPLAIN?
THE STUFF THEY GET TO CALL "DIFFERENT" ON
There's nothing wrong with claiming that your product is different. The iPhone isn't a world apart from a Samsung. JUUL get to pull the biggest "OG" card there is. Their 2015-launched product was the first nicotine salt e-liquid. Flavours like Mango Nectar, Royal Creme and Golden Tobacco are also their own.

JUUL also recently announced customisable wraps (from watermelon to US flags). Ultimately though, it's kind of like Apple. JUUL is JUUL because it's JUUL. It's a great product that's hugely popular. It does the trick for making the switch. We also just used the word three times in a sentence and it didn't feel weird.
A QUICK LOOK AT THE ALTERNATIVES
"A quitting smoker turns to vaping for one reason. "I don't want to drop dead at 50." If you still have a pack of fags in your pocket, you need the biggest alternative there is. Here's what's on offer..."
SMOK Rolo Badge: Healthier for you than the chocolate. Nail your favourite e-liquid pod and it's also just as tasty. Nicknamed the "upside-down Suorin Drop", this 62g pod kit has a fun, police badge design, quality zinc alloy with an anodised finish and all the important bits that matter. 2 refill plugs, magnetic pods, a solid Mouth To Lung vaping experience and a 250mAh battery. Throat hits aren't harsh, but if you're a smoker not wanting to lose that, you've found your thing.
Hexa Pod System Kit: One of the newest pod kits on the market. This device uses state-of-the-art FEELM technology to give high performance in ergonomic design. The Hexa is a "click and play" device, so all you have to do is click the pod in to get going. Batteries run at 350mAh, USB charging generally lasts you all day and your e-liquid pod comes at a 20mg strength with flavours like blueberry and menthol.
Aspire Cobble

: It looks like a cute cobblestone, acts like a pro device and comes in shiny finishes from carbon fibre to dark marble. Experience-wise, you're looking at a powerhouse 700mAh battery, an e-liquid window showing you how much you've got left, plus an indicator light. Nichrome coils here offer reliable quality and the device can accommodate nicotine salts and regular e-liquid pods.
Innokin EQ Pod Mod: A cracker of a starter kit. The Innokin is a refillable pod kit system that you can vape while charging, plus it's got the bonus of long-lasting Plexus mesh coils. Unlike other pod kits, the Innokin offers two modes: regular and boost. Batteries run at an impressive 800MaH. Click in the pods, click the fire button 3 times to activate and recharge when the LED indicator glows red. A perfect on-the-go choice.
Zeltu X: Looks as badass as it sounds. The Zeltu X Pod Kit is an easy-to-use, all-in-one magnetic pod kit that looks a little like a mini box mod, but the design in 100% pod. It's got adjustable airflow, so you can choose from Mouth To Lung or Direct To Lung vaping. You're holding a nice, brushed-steel finish that's aptly fancy for the mega-powerful 1000MaH battery. At about £10 more than other models (think about it, that's a pack of cigarettes), it's 100% worth the price tag.
A QUITTING SMOKER NEEDS THEIR NICOTINE: NIC SALT ME UP
Quite how Google is handling the number of searches for nic salts, we don't know. 2018 has been dominated by the latest e-liquid sensation, and this stuff literally packs a punch.
"Nic salts are the crystal salts of nicotine. They deliver nicotine way faster than standard e-liquids, the rush in stronger and the vapour is smoother."
E-liquids may be relatively new overall, but they've already evolved. Your standard e-liquid with nicotine will be what's called freebase nicotine. That's the conventional type. It still works (3+ million vaping Brits kind of proved that), but the mechanism is different. While freebase builds up in your system, nicotine salts are Buzz Lightyear. With nic salts, you're getting way faster delivery, no room for craving buildups, plenty of room for being happy. Vapers also find that the e-liquid itself offers a smoother experience. Being more chemically stable, nic salts will store better and longer. The only thing you shouldn't be doing with nic salts is Sub-Ohm vaping.

Much like the handy guides to, er, virtually everything on our new interactive website, we've covered the stuff you want to know in blog posts.
"We stock JUUL Device Kits, JUUL Starter Kits and JUUL Pods. Drop by our stores to get yours (or an alternative since you're
now so clued-up)."
www.vapesuperstore.co.uk contains general information about vaping and vapour products. The information provided is not medical advice, and should not be relied upon unless explicity cited. We do not make any warranties surrounding the health benefits, reliability and accuracy of written copy across all pages on our website, including blog content and content posted on social media.
---
Share this post
---