Our Picks: Top 10 Vape Kits
Posted by Vape Superstore on
OUR PICKS: TOP 10 VAPE KITS
---
Vape Kits are incredibly convenient and allow you to get started with vaping or refresh your range of vaping products without being forced to make various separate purchases. By buying vaping resources as part of a kit, you can save money and relax in the knowledge that all the products will work together efficiently. By researching the market and thinking carefully about what your needs are, you can identify a vape kit that will serve you well for a long period of time. Over the years, many vaping manufacturers have appeared on the market, and as you might expect some have better reputations than others. Today, some of the industry's most renowned designers and manufacturers of vaping products and kits include SMOK, Vaporesso, Geek Vape, Tesla, Aspire and asMODus, all of which have products featured in our rundown of the top ten vape kits currently available in the UK.
There are also many extra products you can purchase with your vape kit to enhance your vaping endeavours even further. Vapers have many different preferences when it comes to size, shape and design as well as what they want from the vaping experience, with some vapers prioritising cloud production over flavour, others putting taste first and some seeking to strike the perfect balance between the two. The modern e-cigarette was first invented way back in 2003, and activity has dramatically risen in popularity in the past five years or so, meaning that vaping devices are now a common sight in public areas up and down the country as the number of cigarette smokers continues to decline.
There are many factors to consider when you are planning on purchasing a vape kit, including ease-of-use, design, functionality, vaping preferences and cost. Additionally, some kits are designed for new vapers, whereas others have been created with more experienced users in mind and some cater for all experience levels. Whether you only have modest sum to spend on the best vape starter kit or are ready to invest more in something more advanced, there should be a vape kit below to meet your needs. Let's take a look at ten of the most popular vape kits on the UK market today.
The Veco Solo All-in-One kit is ideal for mouth-to-lung vaping. The slender and stylish kit has a zinc alloy body and a vape tank made from stainless steel and Pyrex. The product is powered with a 1500mAh battery which means you can use it for lengthy periods of time without seeking out a power source. The device can be charged via micro-USB and offers consistently great flavour as well as simple coil installation.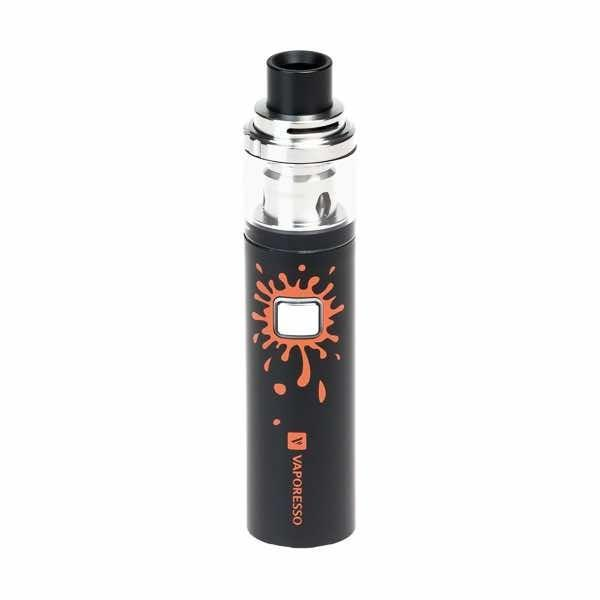 This product could be perfect for you if you've been searching for the best vape starter kit. This popular mouth-to-lung resource offers outstanding battery life and is powered by a 350mAh cell. The device only discharges a small amount of power when in use and switches on whenever you vape. It offers a smooth vape and is made from tough aluminium. Many people also choose this highly-portable kit for its slim, lightweight form factor. As the kit uses disposable pods, you don't need to worry about filling of liquid or changing coils. The device is a favourite amongst stealth vapers.
GEEK VAPE SQUONK ATHENA KIT
This kit combines the mechanical squonk mod with the Athena squonk BF RDA and is highly-regarded for its high power. A safety lock switch is built in to prevent accidental firing, whilst the angles air flow of the RDA heightens flavour and provides a deep juice well. The kit is designed with advanced, experienced users in mind and requires a suitable battery in perfect condition such as a Sony VTC4. Make sure you are knowledgeable about ohm's law and the amp output of your battery if you are considering purchasing this highly-rated kit.
The SMOK Alien Kit is available in a host of exciting colours and is the perfect match for cloud chasers. Offering exceptional flavour and catering for higher watt vapers, the kit includes a 220W Alien Mod and 2ml of TFV8 Baby Beast juice. The kit has consistently won high ratings across a plethora of trusted review sites and is manufactured by one of the market's most prominent brands.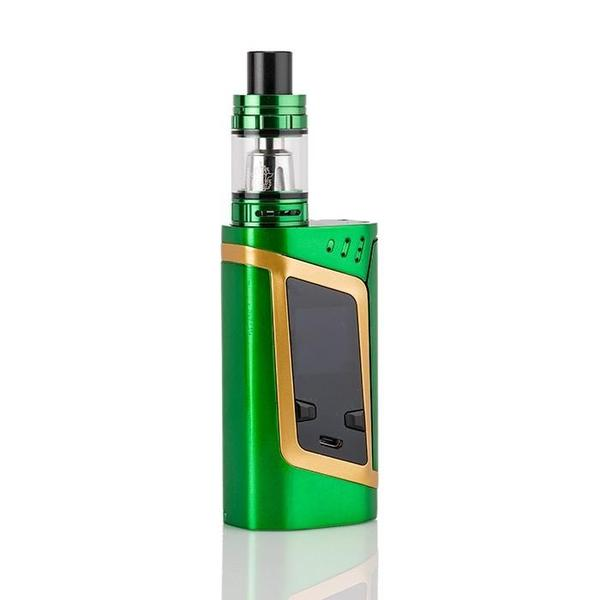 An excellent choice for brand new vapers and experienced users, this kit has regularly been praised for its compact form factor and portability. The kit includes a durable and discrete side-by-side recessed tank, with the mod having been specifically created to work with the Tesla Shadow clearomizer included in the kit. The mod can work with any clearomizer that has a diameter of 22.5m or less but is ideally-suited to the Shadow because of the cloud and flavour production they offer when used together. The kit has a 2200mAh internal LiPo battery and can reach 100 watts in power. A host of valuable features are on offer such as protection from over puffing, overcharging and short-circuiting. The product is built from robust zinc alloy and can be charged via micro-USB. It is also noted for its rubber finish and ergonomic firing position.
Available in colours including black, red and grey, the Aspire Zelos Kit is ideal for those seeking versatility and remarkable ease-of-use. The kit offers outstanding flavour and is a great match for beginners seeking a compact solution as well as experienced vapers in need of a simple-but-effective portable device for use on the move. The kit can reach a power level of 50 watts and comes with a range of vaping modes including VV, Bypass, TC-Ti and more. Known for its generous coil head customisation, it enables you to vape at virtually any resistance level. An abundance of safety features are built in to protect your device from overheating, overcharging and short-circuiting.
The slick SMOK AIO Kit can easily be transported in your pocket and is a great match for those seeking one button operation functionality. The device is regarded as one of the finest pen-style solutions for cloud chasers and comes with a series of great features, such as its LED battery life indicator, leak-proof internal glass tank and low voltage protections. Made from robust stainless steel, the device has two 0.23 ohm quad wicking dual coils to deliver a wonderfully smooth vape experience and is fuelled by a 1600mAh internal battery. One amp quick charging fills the battery in less than two hours, and the device can be charged via MicroUSB. The kit is perfectly suited to entry-level users and more experienced vapers seeking a conveniently compact vaping solution.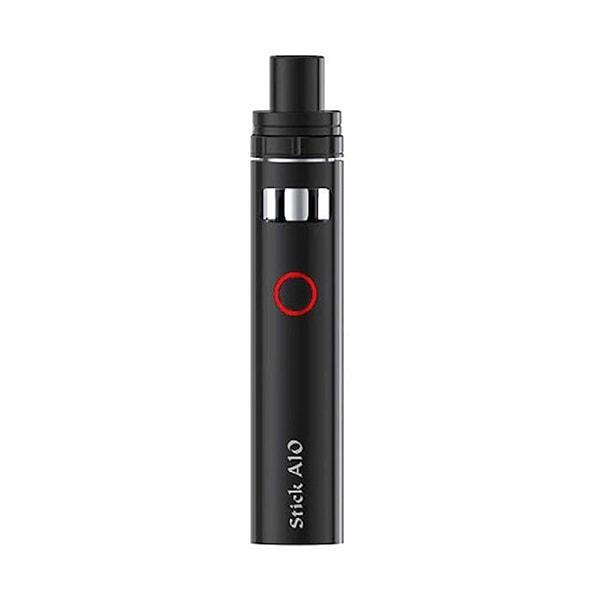 ASMODUS SPRUZZA SQUONK KIT
The Spruzza kit is designed with squonking in mind and has also become one of the most popular products in its field over recent years. The term squonking refers to vaping with a bottom fed atomiser. Squonking devices hold your juice internally and send it straight to your atomiser, enabling you to saturate your cotton with juice by pulling a lever. The main benefits of squonking are vast cloud production and outstanding flavour. This kit is Asmodus's first ever squonking solution and holds your e-juice bottle inside its mod. The mod reaches 80W and is powered by one 18650 cell. The kit can be purchased in colours including red and blue.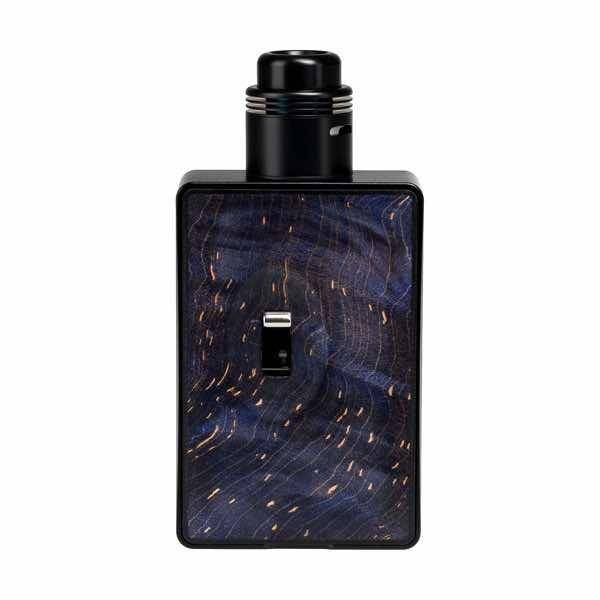 Vaporesso is a premium vaping brand that designs and manufactures goods for new and advanced vapers. It was first launched over a decade ago and was created to deliver safe, accessible and convenient vaping resources to the mass market. The Revenger X Kit offers the perfect fusion of market-leading cloud and flavour production and is built on innovative technology including the OMNI Board 2.2 on-board chip, which supports a wide range of customisation options and over ten different modes. The device can offer 220 watts of power output and is great for sub ohm vapers. Constructed from light but tough aluminium alloy and boasting a sleek matte black finish, the device has a resistance range of between 0.05 and 5.0 ohms. It has a Pyrex and stainless steel NRG vape tank and a top swivel filling system as well as adjustable bottom airflow to cater for various vaping preferences. It is compatible with all NRG coil engines and is run on a pair of 18650 batteries.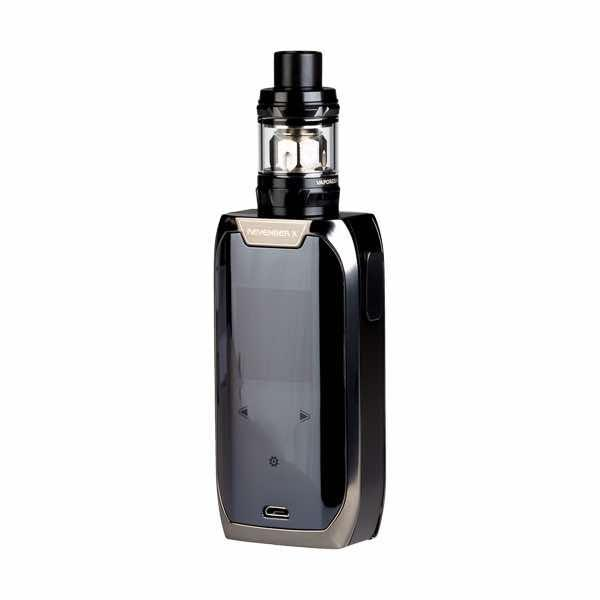 The SMOK Alien Baby AL85 Kit fuses the highly-impressive AL85 box mod and TFV8 Baby Beast tank to deliver a robust, reliable and incredibly compact vaping resource. The device can offer up to 85 watts of power output and has a temperature range between 100-310 Celsius. Sub ohm vapers will be pleased to note its resistance range of 0.06 to 3.0 ohms, which means it can support builds of incredibly low resistance whilst catering for vapers with more basic requirements. The package includes a pre-installed V8 Baby 0.4 ohm dual coil engine and comes with an extra 0.6 dual coil engine. It can also support the Baby RBA. The kit is available in a huge range of designs, such as Black and Gold, Camouflage, Gunmetal, White and Stainless Steel, to give just a few examples.
www.vapesuperstore.co.uk contains general information about vaping and vapour products. The information provided is not medical advice, and should not be relied upon unless explicity cited. We do not make any warranties surrounding the health benefits, reliability and accuracy of written copy across all pages on our website, including blog content and content posted on social media.
---
Share this post
---