SMOK - Profiling The Beast Of A Brand
Posted by Vape Superstore on
SMOK - PROFILING THE
BEAST OF A BRAND
Posted at 5:00 • 01 Sep • Tech
---
You know a brand is a big deal when people are ending their sentences: "Yeah, but it's not a SMOK". This vaping giant is so respected, we figured not doing a profile on them would be insulting. We're covering the brand, the products, plus some epic innovative AI tech (it's SMOK- we wouldn't expect anything else).
SMOK started out in 2010. You might not have been to Shenzhen's Nanshan district, but this Chinese hub is Mecca for vape manufacturing.
SMOK exploded in 2011 with the bold move to release dual-coil cartomizers (back when dual coils weren't really a thing). Since then, SMOK has become an industry front-runner, offering beast mods as well as "cotton-less" technologies and the now commonplace variable-voltage vaping. Add on Bluetooth technology and futuristic AI, it's not surprising their products are considered vaping's Holy Grail. SMOK's impact on the industry has been insane.
SMOK basically put quality Sub-Ohm vaping on the map with the TFV4, and this lot know their coils. Demand for all things SMOK became ridiculous- not surprising then, that our SMOK range goes on for five pages.
SMOK PRODUCTS (IF YOU DON'T OWN ONE, YOU'RE LIVING UNDER A ROCK)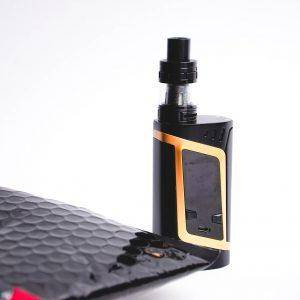 The new classic. The SMOK Alien 220W flies the flag for the brand's stylish build, great quality and trail-blazing performance. Intermediate vapers make a beeline for its all-in-one high power setup, variable wattage, temperature control functionality and trademark TFV8 Baby Best Sub Ohm Tank.
What's in the box?
1 x Alien 220w Mod

1 x TFV8 Baby 2ml Tank

1 x V8 Baby-Q2 Core (0.4Ω dual coils) (Pre-installed)

1 x V8 Baby-T8 Core (0.15Ω octuple coils)

1 x USB Cable for Charging/Upgrading

1 x Replacement Glass Tube

1 x User Manual

Spare Parts
Specs:
Requires 2x Flat Top 18650 Batteries (not included)

Size: 85x44x28.4mm

Power Range: 1W-220W

Resistance Range: 0.1-3ohm (VW) / 0.06ohm-2ohm (TC)

Temperature Range: 200-600c/100-315f
Loved for: So much. Ergonomic design, the sliding battery door, lateral fire trigger and all the nifty features that make it unique. You can adjust for a soft or hard initial ramp-up, you'll never get any misfire or auto-firing issues, and you can depend on durable, rock-solid build. Of course, the TFV8 Baby Beast Tank gets a ton of love for its two patented Sub-Ohm coils (triple and quadruple coil heads), plus two types of single/dual coil RBA heads. This kit is a flavour and cloud champ, comes in a variety of colours and is comfortable to hold.
SMOK just keep on delivering. It's called being good at what you do.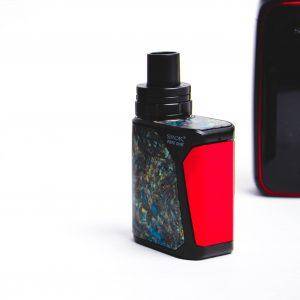 (eye-catching design, mammoth power)
The Priv One is arguably the best mod for new vapers and MTL fans. You're looking at a stylish rectangular outer, a built-in atomizer and a slightly enlarged fire button that just makes life easier. SMOK really paid attention to the included SMOK Stick AIO coils- the kind that can fill a room with clouds, even at the lowest power setting. Tiny portable design and mega power sum this one up, thanks to the built-in 920mAh battery. Vapers also love being able to fill the tank from the top.
What's in the box?
1 x SMOK Priv One

2 x SMOK AIO Core Atomizer Heads (1 x Pre-installed)

1 x USB Charging Cable

1 x User Manual

1 x Spare Parts
Specs:
Size: 74.2mm x 44.4mm x 24.4mm

Battery capacity - 920mAh

Tank Capacity: 2ml

Atomizer resistance - 0.6ohm
Loved for: Edgy stained glass-effect design. Not having to compromise on power when it comes to ease-of-use. Coil replacement is easy- just unscrew the setup and stick a new one in. The top airflow also gives great customisation.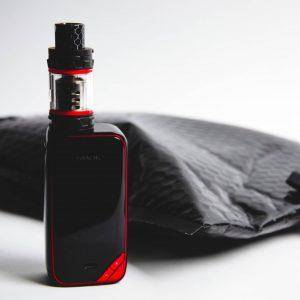 (style, power, hello giant screen)
The SMOK X-Priv doesn't mince its words when it comes to advertising itself as having a giant screen. Two inches of hi-def here are just missing the YouTube channels, and the cycle-through menu system gives a real range of options. 7 colours, 6-colour mode displays and just the right size, the X-Priv has been a best-seller since day one, especially with its soft-curved build.
What's in the box?
1 x SMOK X-Priv Mod

1 x Smok TFV12 Prince 2ml Tank

1 x V12 Prince Q4 0.4ohm (pre-installed)

1 x V12 Prince T10 0.12ohm

1 x USB Cable

1 x Manual
Specs:
46.5mm x 30.4mm x 88mm

2" HD Display Screen

1-225W adjustable output range

Universal 510 connection

Zinc Alloy Chassis

Uses 2 18650 batteries (not included)
Loved for: Colours like Prism Gold and Blue right through to the adorable Auto Pink. Vapers who want a real screen will get what they asked for, and of course, it's got a great tank. The TFV12 Prince Tank fits all the mods in SMOK's Originals range (except Pod Mods) and it's got its own loyal following. This tank offers an optional bubble glass tube, bottom adjustable airflow and comes fitted with a "Cobra" resin drip tip.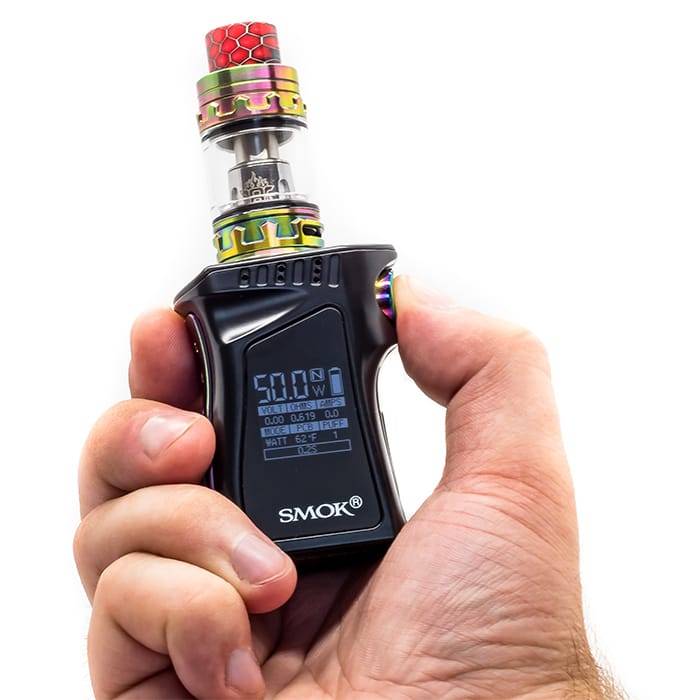 (gun design, gun power)
It's like SMOK got together here and thought: "how badass can we make our design and still deliver on performance?" The result was the SMOK Mag Baby Kit, with its pistol grip, piston-like power and trigger style fire button. The Baby Mag is teeny tiny, but a 1600mAh battery and 50W output deliver, and of course, you get the TVF12 tank.
What's in the box?
1 x Mag Baby Mod

1 x TFV12 Baby Prince Tank

1 x V8 Baby- Q2 0.6 ohms Dual Coils (Pre-installed)

1x V8 Baby-M2 0.25 ohms Dual Coils

1 x USB Cable

1 x User Manual

Spare Parts
Specs:
Size: 61.37 x 46 x 27mm

Output Power: 1W-50W

Standby Current: <400uA

Output Voltage: 0.5V-9.0V

Resistance Range: 0.1-2.5 ohms (VW) / 0.05-2ohms (TC)

Temperature Range: 200F - 600F/100C - 315°C
Loved for: Being the Mag mod's itsy bitsy (but fierce) little sister. This new kid on the block has upgradable firmware, a choice of 9 colours and is an ideal choice for casual vapers who want "bang-bang" style as well as delivery. Performs extremely well for its size, plus it's beautiful.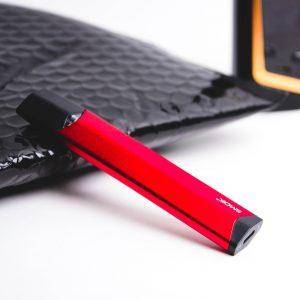 (rip power from a Pod Mod)
SMOK weren't going to pass on the opportunity of delivering a top-notch Pod Mod, and you can read more about the innovative, all-in-one kits here.
The Infinix takes hassle away with its simple design- no menus or buttons, just an air driven technology mouthdraw with a great 250mAh internal battery that knocks out 10-16 Watts. The angular wedge design feels lightweight, the pods slide in nicely and clever design means it doesn't roll around if laid down. What's not to love?
What's in the box?
1 x Infinix Device

2 x 2ml Pod (No E-Liquid)

1 x E-Liquid Injection Bottle

1 x USB Charging Cable

1 x User Manual
Specs:
Size: 110 x 19.5 x 11mm

Weight: 22g

Output wattage: 10 - 16W

E-liquid capacity: 2ml

Standby Current: <200uA

Output Voltage: 3.3V-4.2V

Battery capacity: 250mAh
Loved for: Being a lower-priced option that still gives a lot of bang for its buck. It wicks very well with no gurgling or spit-back and it's super customisable to a range of PG/VG ratios. MTL pods don't get much better than this and you get great flavour, fast charging and a vape pen look that's powerful.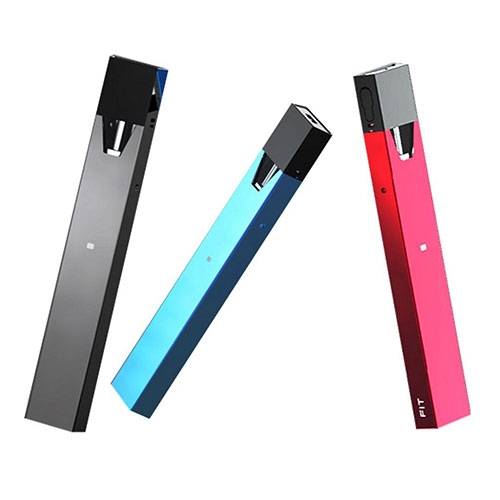 (exquisite design, stealth king)
The Infinix "sister" kit is one of the best stealth vaping kits you can get your hands on. You're looking at incredibly sleek and slim design, a truly portable device and some seriously advanced multiple safety protection. FYI, when you're carrying a vape around in your bag or pocket, that's something you learn to be grateful for. Just like the Infinix, it's a hassle-free Pod Mod with easy e-liquid refilling and the choice of red, blue or Gun Metal colours.
What's in the box?
1 x FIT MOD

2 x 2ml Pod

1 x E-Liquid Injection Bottle

1 x USB Charging Cable

1 x User Manual
Specs:
Size: 107.5 x 18.4 x 8mm

Material: Aluminium Alloy + PC

Output wattage: 10 - 16W

E-liquid capacity: 2ml

Coil: 1.4ohm

Standby Current: <200uA

Output Voltage: 3.3V-4.2V

Battery capacity: 250mAh
Loved for: Effortlessly sleek style and the ultimate in stealth vaping. The on-the-go design is perfect for the work commute, alloy material keeps the weight low and 250mAh of battery life generally lasts a half day (if you're vaping continuously).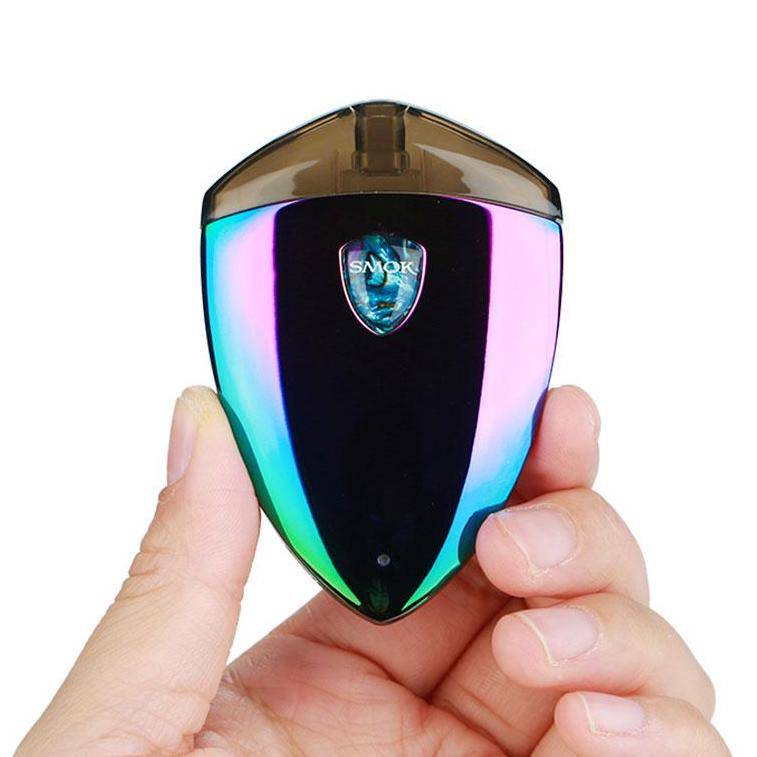 (police badge flash if anyone accuses you of smoking)
This one's been coined the "upside down" Suorin Drop thanks to its teardrop design. There's nothing to cry about when it comes to experience, though. If you've got a sense of humour, you'll dig the rubberised police badge front, but the Rolo Badge is serious when it comes to quality zinc alloy, working with thick or thin juices, and a zero-tolerance policy on dry hits for a solid MTL experience.
What's in the box?
1 x Rolo Badge

2 x 2ml Pod (No E-Liquid)

1 x E-Liquid Injection Bottle

1 x USB Charging Cable

- 1 x User Manual
Specs:
Size: 73.3 x 50 x 12mm

Weight: 62g

Material: Zinc Alloy + PC

Output wattage: 10 - 16W

E-liquid capacity: 2ml

Battery capacity: 250mAh
Loved for: Funky, upside-down teardrop design and an anodized finish. SMOK's trademark quality and innovation, like the two refill plugs and magnetic pods that make a change from clicking the pods in manually. Like all Pod Mods, it's got full safety features, plus it's just gorgeous.
SMOK FUTURISTIC TECH (THE EMPIRE VAPES BACK)
SMOK's website may have its core values as: fashion, vitality, responsibility, but this is a brand that has its eye on the future. SMOK doesn't make VR goggles, but AI is on their radar. The I-Priv is the first AI vape that listens to commands and answers you on its ARC reactor screen. 16 demand codes can get pretty fun, and you wake your warrior by saying: "Hello I-Priv." We could rattle on all day about the VW/Memory mode, dual battery life indicator and staggering 230W output.
Honestly, we're still getting our heads around the firmware upgradeability and beast-like performance. The MCU made a serious mistake by not filming their cast with this in-hand.
For more about vaping in general, pop into one of our stores or get in touch. We're still a bit giddy about the summer speciality addition to our juices, and you can always bag yourself a bargain with our sale. For everything from cannabis-based (and totally legal) CBD liquids to travelling with your gear, check out our other blog posts. We"re not exclusively "all things SMOK", but this lot totally earned a whole blog post.
www.vapesuperstore.co.uk contains general information about vaping and vapour products. The information provided is not medical advice, and should not be relied upon unless explicity cited. We do not make any warranties surrounding the health benefits, reliability and accuracy of written copy across all pages on our website, including blog content and content posted on social media.
---
Share this post
---