The Rise Of Vape Culture
Posted by Vape Superstore on
Posted at 5:00 • 30 Aug • News
---
FROM SMOKING SOLUTION TO SUBCULTURE SENSATION
Hon Lik hasn't changed his wardrobe much since he invented the first e-cig in 2003. While he couldn't save his father from smoke-related lung cancer, Hon is the reason that 49% of vapers are ex-smokers. The guy wears dad glasses, sober suits and the designer ties he's more than earned. What Hon would make of the heavily inked and chin-studded 20-somethings racking up the Instagram followers one #vapetrick at a time? Yo, Hon. Thoughts on this girl? This is @_justpeachyy. With 123k Instagram followers, she's a mid-weight in the world of #vape social media influencing. Her job is to perfect her tricks, polish her look and above all, promote. Why she's doing it? Getting paid to do what you love isn't something many people turn down.
WHAT EXACTLY IS VAPING CULTURE?
Like all subcultures, vaping culture is one that evolved out of the people engaging in the activity. When The Big Bang Theory stuck a Cheeto in Penny's dishevelled hair, they were perfecting the gaming look. Breaking Bad did the same with Aaron Paul's hip-hop hoodies (and the hope that he'd one day be earning those "fat stacks"). Walter White would be proud.
THE WORLD WOKE UP TO VAPING, AND NOW WE HAVE THIS
There's always been a bit of an underground feel to vaping. Even the earliest high street vape shops had that Hogwarts x Dre feel. You'd walk into a cloudy atmosphere of background beats, neatly lined bottles and a "potion for you" kind of feel. In many ways, that hasn't changed. You'll see more glistening minimalism in newer outlets (like our Goodge Street store), but the rebel feel is still there. And rightly so. This is an industry brave enough to give Big Tobacco the middle finger. It might use names like Prohibition and Suicide Bunny, but consumers know they've got nothing to lose.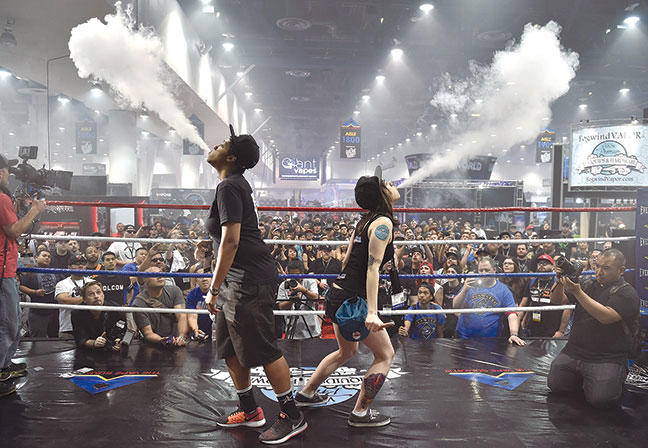 Yes, vape branding has a bit of a niche look. Gothic writing, fog shades, names like Beard, Nasty Juice and Double Drip. Hit up Vape Jam or Vaper Expo, and you'll see a mostly youthful, slightly hipster-esque crowd with a black wardrobe tweaked to show inked arms and shoulders.
These people aren't clowning around, though. They learned their basic terminology a long time ago, although here's the lowdown for brushing up on yours:
Mod- Short for modification/modified. The word originally referred to modifying the flashlight-like battery in older devices, but it's now commonly used to refer to any non-cigalike vaping device. Most people are picturing something like the SMOK Alien. Contains a rechargeable battery.
Juice- This is the e-liquid that the device powers into breathable vapour. Vegetable glycerin, propylene glycol and flavouring are the three ingredients. Nicotine can be added (or not).
Sub-Ohming- Refers to vaping with coils at a resistance below 1.0 Ohms. More experienced vapers reduce the Ohms level to achieve bigger clouds. They'll be well-versed in this.
Cloud/Flavour chasing- Pretty much what it says on the tin. Cloud chasers are in it for beastly clouds, while flavour chasers put taste at the top of the agenda. Both require different techniques and equipment. Find out more

here

.
Squonking- Involves using a squonk mod to push juice into the atomiser. Increasingly popular since

TPD laws

limit tank sizes (and squonk containers aren't considered tanks).
Dripping- A flavour favourite, drippers need both hands to drip juice directly onto the coil. The juice soaks into coil-threaded cotton wool, where it vapourises during heating and inhaling. Diehard dripper enthusiasts will be building their own coils.
THE HOBBYISTS AND TRICKSTERS (WHO HAVE TO BE SEEN TO BE BELIEVED)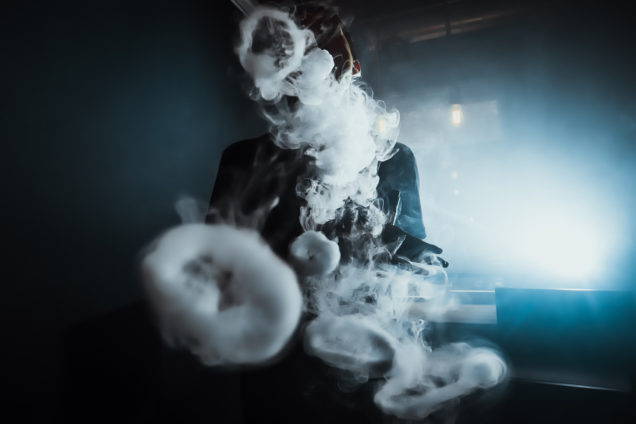 If you've walked into a vape shop and seen the staff blowing dope smoke rings between serving customers, you may have landed on an amateur trickster. If you're lucky, you'll have landed on a pro. Hobbyists and tricksters are a highly skilled, highly dedicated portion of vape enthusiasts whose literal life passion is perfecting something that looks like this.
The kinds of pros who travel internationally to blow award-winning jellyfish rings, win thousands and ultimately land promotional work with major e-liquid or device companies.
A huge amount of behind-the-scenes work goes into even being able to achieve this. Unusual builds, resistance calculating and hours of coil wrapping make tricksters some of the most knowledgeable folks in vaping, but most viewers are in it for the art (which it absolutely is).
Bubbles: Uses a bubble solution-dipped cardboard tube to produce a thin film of bubble mix. Vapers place their lips around the clean end of the tube, blow slowly into it and get a cool-white smoky bubble. Worth watching this girl's tutorial.
Dragon: Requires a ton of coordination and practice. The idea is to look like a dragon when exhaling. Vapour comes out of both nostrils and both sides of your mouth. Looks like this.
Tornado:The aim is to produce vapour tornados that swirl across a flat surface. Tricksters exhale a steady stream against a flat surface for this. When they've got a sizeable, thick pool, they karate chop their hands into the middle, where the impact of motion and air pressure produces this effect.
The world of hobbyists and tricksters is busy filling Instagram, Snapchat and Youtube hashtags. The greats have up to 2 million followers, but you can find rising stars who are equally skilled.
Zophie Vapes: Attracts hundreds of thousands of views on her Youtube reviews and 

IG

, where she's inching her way towards 100k followers.
Just Peachy: This is Hannah, an Arizona-based trickster who comes complete with the goth-come-athleisurewear clothing, piercings and tricks like this and this. She collaborates with companies like Ruthless E-Juice in these videos.
Vape Tricks: This general account profiles the best, announces competitions and events, plus profiles new mods and e-liquids.
VAPING CELEBS (AND THE COLLABORATIONS)
When it's a status symbol, uber cool and healthy, you can guarantee Hollywood will be on it. With a vape as Coachella's ultimate accessory, it's official. 2018 is the year that the planet's biggest faces emerged mod-in-hand, and the list is pretty high-end.
Leonardo DiCaprio, Katy Perry, Snoop Dogg, Rihanna, The Weeknd, Lady Gaga and DJ Khaled are all e-cig users, and a fair few have put their names to the industry. Collaborations aren't just for Beyonce x Eminem beats. More like Vape x Music.
As music videos figure out how to best edit the monster clouds and Snoop Dogg's G Pen remains firmly sold out, the celeb influence is getting serious. A$AP Rocky has his walnut-veneered Kandy Pen. Professor Green has his own Unruly line, complete with Unruly; disorderly and disruptive and not amenable to discipline and control welcome. The Prof will even be making an appearance at the 2018 UK Vaper Expo. From Stunna by Birdman to DVTCH x Chuckie, the celeb collaborations are blending dance or hip-hop beats with beast clouds. Skrillex? He vapes. So does Zayn Malik. Johnny Depp vaping on a train in The Tourist? 2010 was a long time ago.
In a way, it's only natural. Ariana Grande has a line with Reebok. Kylie Jenner basically is cosmetics. For vaping, you don't need to be a model. You just need to fall in love with the smoke-free alternative that comes in thousands of mouth-watering flavours, endless customisations and zero proven links to disease.
Most vapers are more on the "thanks for helping me quit smoking" spectrum than the "watch me blow insane rings", but you can be both.
"My best trick? Still quitting smoking."
That came straight from one of the pros. To join him on whatever level you want, or to find out more about vaping, drop by any of our six stores. You can also hit us up on Facebook, Twitter, Instagram or the old-fashioned way. Our phones don't blow jellyfish, but when they ring, we answer.
www.vapesuperstore.co.uk contains general information about vaping and vapour products. The information provided is not medical advice, and should not be relied upon unless explicity cited. We do not make any warranties surrounding the health benefits, reliability and accuracy of written copy across all pages on our website, including blog content and content posted on social media.
---
Share this post
---