---
PRE-FILLED 20MG NIC-SALT POD
The ultimate convenience, alleviating cravings quickly.

No need to refill pods or change coils, just use a fresh pod.

Inhalation style is the same as smoking, just inhale to vape.
---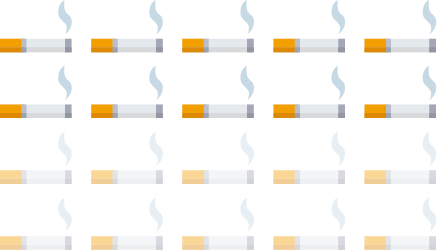 Allows you more control over e-liquid choice.

Low maintenance, refilling is very easy to do.

12mg is usually a good place for moderate smokers to start.

You can experiment with nicotine strengths more.
---

6MG FREEBASE OR 10MG NIC-SALTS
They often come with two coil options.

Sub Ohm coil: use with a lower nic strength for a stronger throat hit.

Mouth to lung coil: use with a nic salt for a smoother inhale.

Pick which matters most to you, or try both.

Larger battery life than pod kits.
---

Often come with coils for direct to lung and mouth to lung vaping.

Light to moderate throat hit depending on e-liquid choice.

Larger battery life than pod kits.

Go for a 50:50 for more throat hit, 70:30 for a more mild inhale.
www.vapesuperstore.co.uk contains general information about vaping and vapour products. The information provided is not medical advice, and should not be relied upon unless explicity cited. We do not make any warranties surrounding the health benefits, reliability and accuracy of written copy across all pages on our website, including blog content and content posted on social media.
---
Share this post
---