JUUL - What is All The Fuss About?
Posted by Vape Superstore on
JUUL: WHAT IS ALL THE FUSS ABOUT?
Posted at 13:00 • 07 Dec • News
---
When it comes to JUUL, we generally get one of two questions: "Do you stock it?" (yes) and "Can you tell me what it is?" (also yes). To give you an idea of the sheer buzz this revolutionary brand is causing, the company website actually welcomes you with "We now have a store in the UK".
We happen to have 7 stores. With the full Vape Superstore JUUL stock, you're sorted.
Just last month, JUUL announced customisable skins and wraps. From watermelons to US flags, you can now get a JUUL that's your own personal experience as much on the outside as the inside. Until you actually know what it is though, kind of useless.
JUUL: WHO, WHAT, WHEN AND WHY?
JUUL (kind of pronounced "jewel") was created by two Stanford University grad students. James Monsees and Adam Bowen were smokers themselves before creating the device that is now produced by Pax Labs in the US. With $224 million of generated sales in one year, the "iPhone of vaporisers" was the biggest-selling vaping device of 2017. In a bit of a Mark Zuckerberg creates Facebook moment, these two guys are now responsible for a brand that has exploded 621% in one year alone.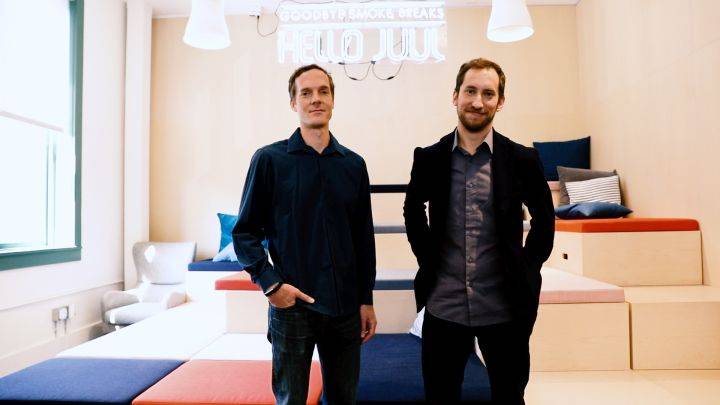 JUUL is the latest itsy bitsy vaping device that everybody wants (and with good reason). The nicotine-delivering e-cig that could easily be mistaken for a USB thumb drive is anything but basic, though. JUUL was the first company to produce nicotine salt e-liquids. Designed by smokers for smokers, you're looking at a high nicotine e-cigarette that works with the simplest, slickest technology there is. You pop in flavoured nic salt pods and you're good to go. No complicated LED displays, no fiddly coils and a simple USB charging system that works on any laptop. JUUL uses an intelligent heating mechanism to minimise combustion and minimise mess (it's a closed system, non-refillable deal).
The founders of JUUL actually got started on designing a vaping device as students, back in 2007. JUUL was introduced by Pax Labs on June 1, 2015. The devices really took off sometime around the middle of 2017. By August 2018, they accounted for over 70% of the US e-cigarette market. JUUL is available in over 12,000 American convenience stores, plus the most convenient UK equivalent- right here with us.
Good question. There seem to be a zillion pod kits on the market right now. Why another? Products aren't successful unless they're super innovative. JUUL is just that. Alongside the super-sleek, super-compact and portable design, JUUL gets its buzz because it delivers one. JUUL devices exclusively use nicotine salts- these absorb into the bloodstream at the approximate speed of a cigarette. Unlike the freebase nicotine you find in regular e-liquids, nic salts don't build up in your system. They deliver the powerful, satisfactory nicotine rush that countless ex-smokers are referring to with "seriously, thanks".
"Juul Labs was founded with the goal of providing smokers with an easy to use vapour alternative to combustible cigarettes, containing a similar level of nicotine to make switching as easy as possible."
That's the official mission statement from JUUL. The points they manage to cover in one sentence include making the switch and lightly touching on the benefits of nic salts.
JUUL DEVICES AND PODS: THE SIMPLEST NITTY GRITTY EVER
There's a reason the JUUL website doesn't have paragraphs of text on how to set up a JUUL. There simply aren't any paragraphs to write. Nespresso, you might want to be taking notes, here.
Two types of kits, one type of pod and all kinds of exquisite when it comes to the flavours.
JUUL Starter Kit- Designed for smokers, the Starter Kit includes the JUUL device, a USB charging dock and 4 JUUL pods in 1.7% nicotine strength. The kit comes with Mango Nectar, Royal Creme, Golden Tobacco and Glacier Mint flavours. It also comes with a 2-year limited device warranty.
Device Kit- As much designed for smokers as vapers, the Device Kit offers the same simple JUUL device, but without the pods to get you going. This is a great option for vapers who already have a little experience with their vaping taste buds and can, therefore, choose from JUUL's range of flavours.
ISN'T 1.7% NICOTINE "LOW"?
Before you look at that 1.7% and think "wait...I hear people vaping at 12mg nicotine, isn't that low?" Remember that these are nic salts. That's a 20mg nicotine strength- way higher than the 6mg or 12mg that many quitting smokers opt for when they take up vaping.
"A single JUUL pod contains as much nicotine as an entire pack of cigarettes."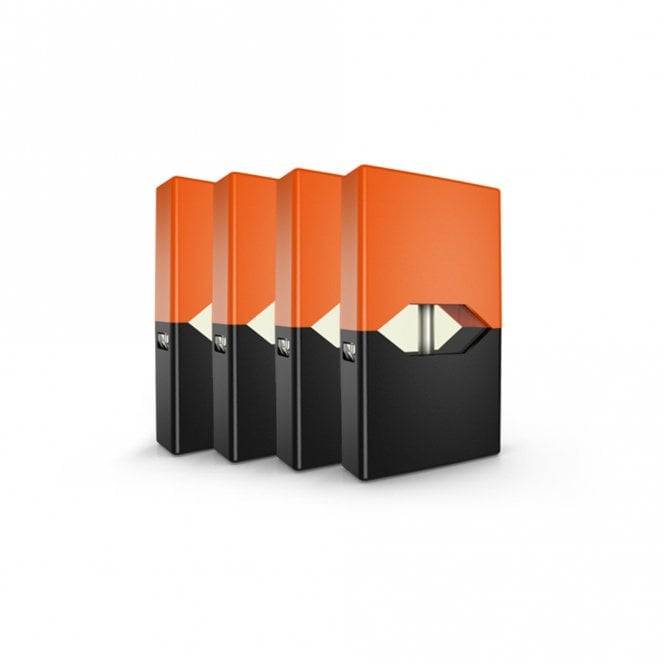 How long a pod lasts is up to you. For many JUUL users, a pod will generally last between 1 and 3 days. JUUL users who have it in their hand a little less can find that the pod stretches out for 5-7 days. As with all vaping devices, the JUUL contains no combustible tobacco, no tar and no carbon monoxide.
JUUL pods are cartridges that click into the top of your JUUL device. They contain a proprietary salt-based nicotine e-liquid formula mixed under strict quality-controlled purposes.
The liquid in your JUUL pod comes as a 30/60 PG/VG ratio. Vapers will already be familiar with the various ratios, although here's a quick summary. PG stands for propylene glycol. It's a colourless, odourless substance that acts as the flavour carrier and source of throat hits in vaping. VG stands for vegetable glycerin. It's also colourless and odourless, but VG is responsible for producing vapour levels.

The nicotine in your JUUL pod comes from tobacco plants- not to be mistaken for actual tobacco. JUUL uses highly purified, USP and pharmaceutical grade nicotine.

Benzoic acid is something else you'll find in a JUUL pod. Before you worry about it, know this. Benzoic acid is a naturally occurring ingredient found in tobacco and other substances. It is necessary to neutralise nicotine base molecules, stabilise the compound and provide a nicotine that's smoother to consume.

Noticeably less harshness. Nic salt users are generally pleasantly surprised- the harshness that high PG liquids cause isn't a worry with JUUL.
WHY ALL THE SUCCESS? (YOU GUYS ANSWERED THAT ONE)
The secret to happy customers in 2018 is simplicity. Literally. Just ask Apple. JUUL is loved for so many reasons. It's simple enough for your moron best friend to manage. It fits in the palm of your hand. It's got that American-designed, quality build that you can feel the minute you hold it. Ultimately though, it's got that rapid-delivering, smooth nicotine rush that comes in flavours from fruity to tobacco. JUUL is the modern-day answer to vaping on-the-go, stylish aesthetics and an unbeatable experience for quitting smokers.
SOMEONE ALWAYS HAS TO RUIN THE PARTY, THOUGH
Americans are the biggest drama queens ever (we mostly love them for it, though). While skeptics are fuelling negative headlines with the "Teen Epidemic" that JUUL seems to have launched over in the US, we're seeing it tied into something darker. In the UK, Big Tobacco successfully lobbied their way into getting the TPD laws that limited tank and bottle sizes, plus nicotine strengths.
There had to be a US equivalent. The US' Food and Drug Administration has a pretty vocal spokesperson. Scott Gottlieb is out on Donald Trump's behalf. His threat-wielding has suggested the banning of flavoured e-liquids with a somewhat weak "save the kiddies" backbone. With little-to-no evidence to suggest that vaping is a gateway to smoking, the argument hasn't done much except boost Big Tobacco's stock by $20 billion.
"JUUL executives have stated from the start that they do not want kids using the product."
That's straight from the USA's Iowa Attorney General, Tom Miller. He says that JUUL have pledged to work "with me and others to keep their product from kids". At Vape Superstore, we're doing the same.
GET YOUR JUUL TODAY AT VAPE SUPERSTORE
We were so stoked to finally be stocking JUUL. That was before we realised what a nightmare emergency re-stocking would be. Shout-out to Paul, our warehouse manager for not losing his head over this. We stock JUUL devices, Starter Kits and pods. If you haven't tried JUUL yet, you haven't lived.

For anything else or to try out new mods or e-liquids, pop into any of our seven stores or get in touch. For exclusive offers, promos and savings, follow us on Facebook, Twitter and Instagram.  
www.vapesuperstore.co.uk contains general information about vaping and vapour products. The information provided is not medical advice, and should not be relied upon unless explicity cited. We do not make any warranties surrounding the health benefits, reliability and accuracy of written copy across all pages on our website, including blog content and content posted on social media.
---
Share this post
---