Back To Basics: What Is An E-Cigarette?
Posted by Vape Superstore on
E-cigarettes are battery operated devices that are used to vapourise an e-liquid into vapour which is then inhaled. Also known as vape kits or e-cigs, these were invented to replicate tobacco smoking, in what is believed by many to be a safer alternative. These vape machines have evolved with technological advancements since their invention and we're here to cover the basics of what an e-cigarette is.
"It's become one of those things- like Wi-Fi. You're so busy finding the best deal, you've forgotten what it actually is"
They should totally define Wi-Fi as "wireless fireless." Mostly because it would be like an e-cigarette. Also, just...they should. From the people who don't sell Wi-Fi, hi.
SUPER-ADVANCED THESE DAYS, BUT WE'RE GOING "OG"
You know it's advanced when people have entire YouTube channels devoted to something called a Wotofo Phantom. If you're still one of those people who doesn't have a clue what an e-cig actually is, the Wotofo Phantom isn't a version of the Rolls-Royce Ghost. The Phantom is a mech mod- the Sheldon Cooper of e-cigarettes. Sheldon was unavailable for an in-depth, Penny-style breakdown of electronic cigarettes, so you're stuck with us.
ELECTRONIC, BUT NOT A CIGARETTE (GOOD JOB, WHOEVER NAMED IT)
Quite what's going on with the name? If you haven't figured out that electronic cigarettes aren't actual cigarettes, bear with us. That's one giant rock you've been living under, so we'll need a team to lift it.
"E-cigarettes are: Battery-operated, hand-held devices that resemble (but are not) tobacco cigarettes, cigars or pipes. Their purpose is to vapourise liquid into vapour electronically. "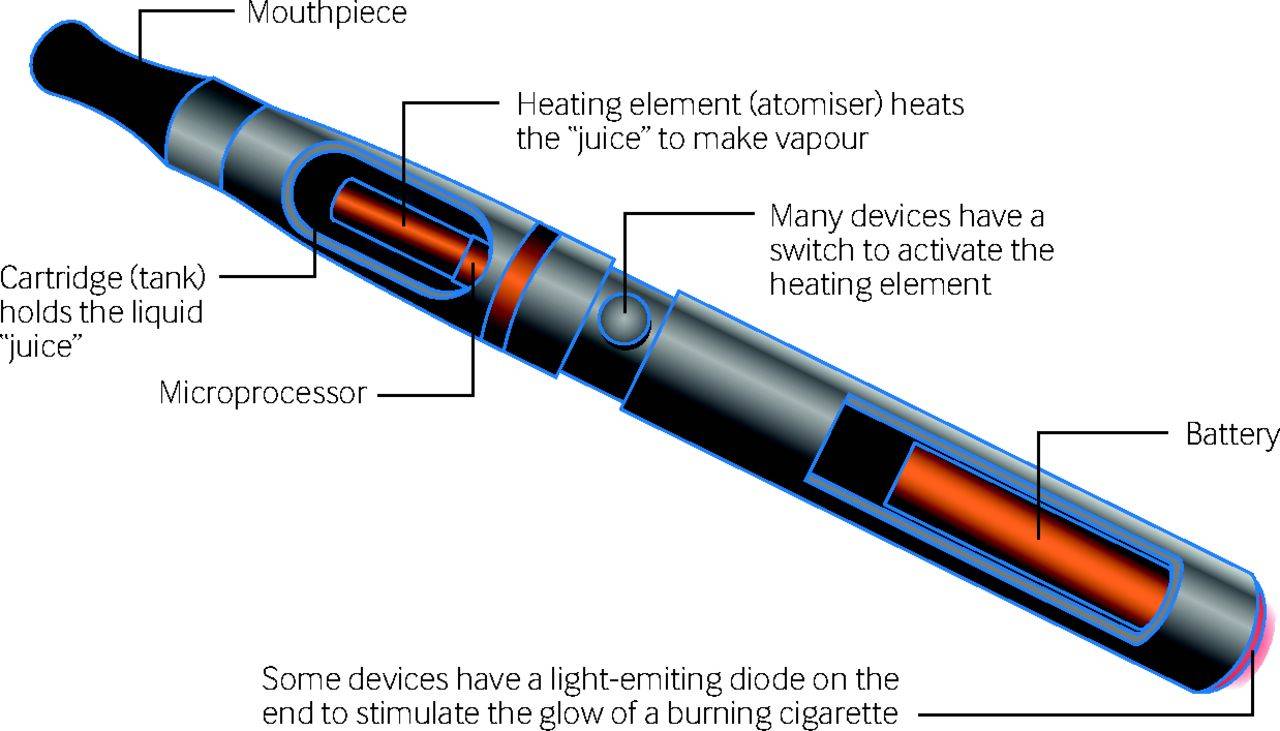 The mechanism mostly goes like this: You suck on the mouthpiece (drip tip), a sensor activates the device's heating element, and the nice, flavoured juice in your tank goes from e-liquid to vapour. That's what allows the "inhale, exhale" experience, the intake of nicotine (if you choose to vape with it), and the chance to become someone like this.
NO, THEY AREN'T POWERED BY IRON MAN
Whether you're holding a SMOK Alien or an SMPO Pod Kit, you're looking at a similar setup. Whacking on variable wattage, voltage, and adjustable airflow are the whistles and bells, but the bread and butter of how e-cigs are composed has stayed the same. You're looking at five main components.
Battery-

Good luck getting an e-cig to work without one of these. Supplying power to the atomiser (coil and heating element), an e-cig's battery is its engine. Provided you're not the dummy who forgets to charge it, the battery will be your vape's fuel, friend, and function necessity.

Tank-

Your vape's tank isn't a million miles off your car's tank. It holds the juice. Also known as a clearomisers, tanks can be glass, plastic, or virtually invisible in newer pod kits.

Coil-

The coil is the resistance part of your device. Whether you're using pre-made ones or building your own, it's coils that the battery heat in order to vapourise the tank's e-liquid.

Drip tip-

No, it doesn't drip like a leaky tap. The drip tip is simply the mouthpiece used for inhaling vapour from your tank. Depending on how you choose to vape, you're looking at different types (e.g. wide-bore or narrow). Still, you won't find an e-cig without a drip tip.

E-liquid-

Probably the most important one. Nab yourself a vape without any juice, and you've got nothing to vape. E-liquid is the three-ingredient, flavoured liquid that sits in the tank until it's heated into vapour. It's something you buy separately, but it's the key component of actually vaping.
WHY DO YOU BUY AND USE E-CIGARETTES?
The aim of e-cigarettes was to find an alternative to smoking. It still is. E-cigs are something that over 3 million Brits are now using, and a significant percentage of them are either quitting smokers or fully #Done.
"Done smoking"- like you haven't heard that one before. Every year come January, tens of millions of Brits get up off the sofa. They clear up the last of the Celebrations wrappers, try not to feel too awful that the mince pies were eaten by the box, and yes, the resolutions will come.
Along with cabbage soup diets (has anyone lasted longer than a week on this?), quitting smoking is always up there. These days, that's turning into stubbing out the fags and picking up the vape.
THE ORIGIN OF THE E-CIG: ONE GUY AND A BRAINWAVE
The e-cig as we know it was officially invented in 2003. Hon Lik is the Chinese pharmacist who watched his own father die from smoke-related disease. A smoker himself, Hon made it his life's work to build an alternative.
"I started smoking when I was 18 years old. At that time, I was working in a rural area and I used cigarettes because I was working very hard and very far away from my parents and my family. It was quite lonely, so the cigarettes became my good friend."
Hon Lik, inventor of the e-cig.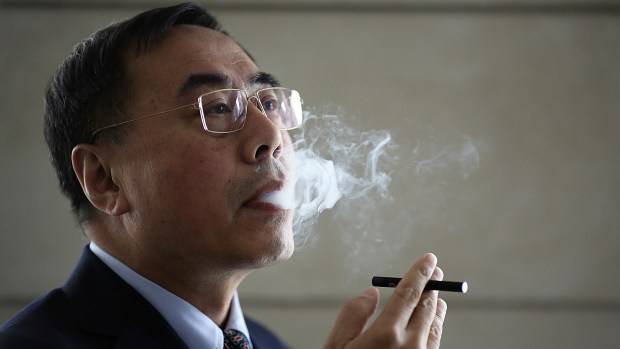 The piezoelectric, ultrasound-emitting element Hon Lik invented to vapourise pressurised liquid got him a patent, but the idea itself goes back to the 1920s.
1927's archives are pretty dusty (that's what you get for smoking everywhere). Dig deep enough into them though, and you'll find Joseph Robinson's "electronic vaporizer holding medicinal compounds which are electrically (or otherwise) heated to produce vapours for inhalation." The medicinal part? It was 1927. The dangers of smoking tobacco products weren't known yet. People were probably still using smelling salts to #Deal, but the idea was there.
The 1960s were way too dominated by Big Tobacco to give this thing a chance, but 1963 saw another stab at the e-cig attempt from Herbert A. Gilbert- he filed a patent for the vapourising of a flavour cartridge.
Fast-forward to 2003, and you've got your first e-cig. In 2007, vaping devices started getting more recognition in the US and the industry really took off. Devices now are a million miles from what they were back then- as are vape e-liquids.
"Ask an old-school vaper what liquids were available back in the day. They'll answer you in one-word chunks: Tobacco, strawberry, mint. Now, you're looking at everything from cereal and donuts to pistachio crême brulée."
TYPES OF E-CIGARETTES: FROM 1ST GEN TO NEXT-GEN-TECH
If you were an early e-cig user, this might sound familiar:
Holding a fiddly, cigalike device that was basically the only thing a pharmacy could sell you. It came in one size, power was a joke, and for something that looked like a cigarette, it wasn't half heavy. You'd walk around trying to hold it between your fingers, spend your life dropping it, and you're probably glad that the #NewDrop finally came.
1st generation-

Literally, basic. First generation e-cigs came as disposable cigalikes that lasted 200-300 puffs. Things advanced about 2% with rechargeable batteries, but the experience stayed the same. You also had one option- closed system. Tanks weren't refillable, although closed system is back on-trend with easy-to-use, all-in-one pod kits.

2nd generation-

Larger, a bit more advanced, and one main difference. Instead of mouth-drawing being the only form of activation, vapers got the option of a fire button. By now, devices were larger, longer-lasting, and tanks could hold more. It's around about here that e-liquids turned from Tesco Value to "Taste the difference". Ironically, supermarkets like ASDA now stock Dinner Lady. Open systems (refill your own tank) also became an option.

3rd generation-

Even the cheapest devices have full, 3rd-gen features. That's everything from high power and reducing dry hits to built-in battery safety. 3rd-gen marked everyone kind settling into the "new normal": variable wattage, temperature control, LED displays, and the ability to

Sub-Ohm vape

. This generation also allowed choosing between Sub-Ohm and Mouth to Lung vaping, plus it paved the way for vape pens.

4th generation and AI:

If you're wondering when your phone will switch from 4G to 5G, it's a similar deal with vaping. We're basically on the brink of breaking 3rd gen as power brands like SMOK announce

innovative AI functionality

(and JUUL is

set to go bluetooth

).
THE BEST E-CIGARETTE BRANDS
It doesn't matter if it's Adidas or Amazon. Big brands got big for a reason. Since we seem to have gone on a supermarket tangent, here's something everyone can relate to. The UK has the "big four". Chances are, you shop at either Tesco, Sainsbury's, Asda or Morrisons. Vaping has a similar deal.
"Vaping brands generally don't need to offer you Nectar Points. If you're reading this, chances are, you're already loyal. We're all up on the product doing the talking, but we haven't forgotten the rewards. Join VapeSuperstore's VapeClub today for liquid cash rewards, freebies, and more."
SMOK-

Clever name, clever tech. SmokTech is the full name of this Shenzhen-based brand (and they kind of get to call "OG" on vaping). They're best known for mods like the

SMOK Alien

and the

TFV4 Sub-Ohm tank

. SMOK was one of the first companies to use dual coils, they're at the forefront of vaping AI, and everyone knows a vaper who brags about their

Baby Mag

. SMOK are also super popular in the pod kit category thanks to the

Rolo Badge

.

Vaporesso-

Vaporesso is the 2015-founded vaping brand that might have gotten popular for sounding like Nespresso, but brands don't stay popular unless they're top-notch. You're looking at quality hardware like the

Vaporesso Revenger X

, the itsy-bitsy

Tarot Vape Kit

, plus a ton of tanks, coils and an impressive 300+ company-owned patents.

Aspire-

Became an industry leader for a reason. This Chinese brand is headquartered in California, the range is huge, and somehow, these guys have never missed the mark on quality. From the

Aspire PockeX Kit

to the

Gusto Mini

, Aspire are known as much for their mods as their coils and tanks.

Wismec-

Wismec designs its products in the US. Trust Americans to be the ones coming up with the

Reuleaux

(although way to throw us a curveball with the French-sounding name). Slightly lower-profile than SMOK or Aspire, Wismec nonetheless earns its slot here for throwing us that JayBo design partnership, the staggeringly beautiful

DNA mod

, plus quality coils and tanks.

Innokin- It's getting embarrassing. Literally, how much we wind up having to say "out of stock" with this brand might mean chasing up the warehouse for us, but low stock is the sign of high regard.

Innokin

was founded in 2011. With a particularly impressive range of starter kits, they're also a big hit with switching smokers. You're looking at quality, well-priced here. Like the

Innokin Cool Fire IV

, much-loved

Endura T20- vape pen

and  

Kroma-A Zenith

that forms part of Innokin's "Platform Series".

JUUL-

The undeniable trailblazer of 2018 and 2019. JUUL is the high nicotine, all-in-one miniature device that was the first to deliver

nic salts

. Devices are sleek enough to be mistaken for a USB thumb drive, their pod flavours are spot-on, and the brand is big enough to have people "JUULing". We stock JUUL in our stores (and we wrote about them

here

).
Of course, you've got your Waitrose and M&S. Your artisan butcher and your hometown hero. We stock everything from Kanger and MyBlu to our own, in-house Vape Superstore liquids. If you've eyed these up while shopping for juice (but still don't know what to try), a safe bet would be the three we continually moan about having to "prioritise for the customers" (yeah, we're kinda greedy).
VS Heisenberry, Sweet Apple Pie and Caramel Coffee Custard are all 4 for £10.
RULES AND REGS- STUFF GOT REAL IN 2017
2017 feels a while back. Ariana Grande was still building up that ponytail. Travis Scott wasn't yet rapping about "ridin' through the clouds" (or "going through the vapors"). What 2017 did bring though, was TPD: the Tobacco Products Directive.
"It's no secret that vaping brought Big Tobacco the first real dose of #Competition ever. A lot can happen behind closed doors. TPD was the result"
The "most lobbied dossier in EU history". That's one way to put it. In what is largely accepted to have been some pretty fat suitcases of cash thrown at the government, Big Tobacco lobbied their way into squashing the vape industry. At least, as much as they could. The EU vaping industry is now TPD-compliant (as are we).
Limits on e-liquid bottles-  

TPD put an end to those 120ml bottles with nicotine. The limit for juice with nicotine is now 10ml max, although

Short Fills

are the neat solution. You still get cheaper juice, you add a

nic shot

(or not), and your 0% nicotine liquid is law-compliant.

Oh, and tanks-  

Tanks used to come up pretty big- everyone would walk around with at least 5ml worth of juice in their tank. TPD laws limited tank capacity to 2ml. While that does mean more refilling, the complaints aren't as massive as they used to be. The sheer popularity of all-in-one pod kits has shifted interest over to hassle-free devices. If you're going old-school though, 2ml is your limit.
Nicotine strength-  There's a reason JUUL UK offers 20mg max for their pods (while over in the US, it's above 50). 20mg/ml is the max nicotine strength under TPD laws. You can still tweak your own nicotine, though. We recommend taking caution when chucking in the nic shots, but you don't have to stick to 3mg or 6mg.
Warnings and labels-

This one, we won't ever slam. Much like the peanut warning on your Crunchy Nut, you've got the right as a consumer to be made aware of what you're buying. Nicotine is addictive. The TPD-compliant label now needs to say so

.
Testing and age limits- The vaping industry didn't have much in the way of regulation before TPD. You didn't know where your juice was being made (or how). With everything from 1cm nozzles to the 18+ age law, TPD has also brought in a ton of regulations forcing e-liquid companies to be transparent- from emissions testing to impurities. Our entire range comes from labs undergoing independent inspections. Anyone approaching us without full testing can show themselves out.
"YEAH, I KNEW ALL THAT. COOL BEANS, BUT I KINDA CAME HERE FOR JUICE AND MODS"
First off, you'd be surprised how many people don't know as much as you. If you earned your Level 1 certificate in vaping basics years ago, thanks for taking the time to read. Now you can reward yourself with the actual goodies.
One word: Sale.

Chucking in the stuff that "isn't selling" isn't our style. We put stuff on sale because we know you want it.

Get it

.

Two words: Vape Club.

If you haven't joined, here's a challenge. Find one reason why liquid cash, birthday freebies, store credit and exclusive discount codes "aren't your thing". Join today for free, and we'll reward you just for

signing up

.

Two more: New gear

. Our

new arrivals

are the literal shiny shiny (before most other people know about them). Have a browse. You might spot the one thing you'd been looking for.
If you need help in choosing the best electronic cigarette, pop into any of our seven stores or get in touch. For exclusive offers, promos and savings, follow us on Facebook, Twitter and Instagram.
www.vapesuperstore.co.uk contains general information about vaping and vapour products. The information provided is not medical advice, and should not be relied upon unless explicity cited. We do not make any warranties surrounding the health benefits, reliability and accuracy of written copy across all pages on our website, including blog content and content posted on social media.
---
Share this post
---