BEGINNERS GUIDE TO E-LIQUIDS

---
If you've just bought your first vape kit (or are just about to!) and are starting out in the world of vaping, it can be a little daunting and overwhelming.
There's a lot of new terminology to learn and hundreds of flavours to choose from, so where do you start? We've put together an e liquid guide of the most commonly asked questions to clear a few things up.
E liquid (or vape juice) is comprised of three (sometimes four) ingredients. Propylene glycol (or PG for short), vegetable glycerin (VG), flavouring and if you choose it - nicotine. Each ingredient plays an important part in your vaping experience.
PG is an odourless liquid which is there to carry the flavour of your vape juice, it also gives you the "throat hit" feeling you'd expect from conventional cigarettes. As it's a thinner consistency to VG it's easier to vaporise as well. It's used in things like ice cream and food enhancers for the same purpose - to deliver maximum flavour. VG is a thick, sweet liquid which is there to provide you with vapour production, it's also smoother on the inhale. VG is used in a variety of things from caramel to soap to toothpaste.
The flavouring varies massively and there's a huge range of taste combinations you can try, from desserts to tobacco, fruit to menthol. As you'd expect, it's there to give you an enjoyable vaping experience.
The final ingredient is nicotine, the addictive ingredient you find in cigarettes. You can get e liquid without nicotine if you're in it purely for the joy of vaping but generally the people who are transitioning from smoking to vaping prefer to have some nicotine in there. The strength of nicotine on the bottle is how much nicotine you get per 1ml of juice.
WHICH NICOTINE STRENGTH SHOULD I CHOOSE?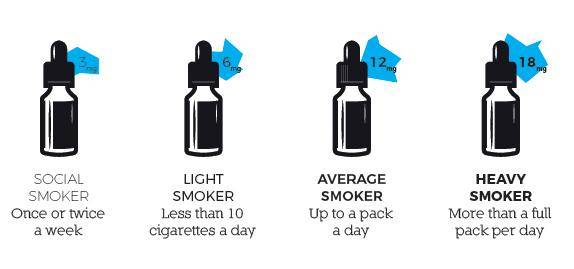 WHEN IT COMES TO CHOOSING NICOTINE STRENGTH, IT REALLY COMES DOWN TO HOW MUCH YOU USED TO SMOKE.
Social smokers (who smoke once or twice a week) should go for a low nicotine option like 3mg, this is often the final step for people who have quit smoking and don't need much of a hit anymore. You can also get 0mg juice if you simply enjoy the feeling of vaping but no longer have a craving to satiate.  

For a light smoker, someone who has less than ten cigarettes a day, we would recommend a strength of 6mg. This strength is still considered on the lower end of the scale and suits people who enjoy vaping but still require a bit of a nic buzz.

An average smoker who has up to a pack a day should go for a 12mg e liquid, an ideal place to start for your run of the mill smoking habit as it helps you migrate and substitute from the amount you'd get from regular cigarettes.

Finally, for the heavy smokers (more than a pack a day) you should go for the maximum strength of 18mg or even 24. This is for people with a serious habit who need a high dose to get proper satisfaction from vaping.
It's really important to get the right strength so when you are using your vape to help you quit, you'll be getting enough of a nicotine hit to satiate the cravings whilst also not over-doing it and finding the effect too strong.
HOW DO I CHOOSE AN E-LIQUID FLAVOUR?

This one all comes down to personal preference as there's hundreds of flavours and brands to choose from. You might want to try a tobacco or menthol e liquid if you're coming off cigarettes so the taste and feel is more familiar, or you might want to branch out and try a fruity or dessert flavour instead. Pop into one our vape stores where you'll be able to sample a few varieties - the key to quitting is finding something you really like and prefer to the usual taste of cigarettes. Once you're more experienced you can come up with your own recipes and blend a couple of juices together to create your own combinations.
There are a lot of affordable options in a 10ml bottle so you can try a bunch at home. Once you find your favourites, you can buy them in a short fill (a larger bottle with 0 nicotine that you mix with a nic shot to create your desired strength) to save yourself money.
HOW DOES THE BLEND OF PG/VG WORK? WHICH ONE SHOULD I CHOOSE?
As mentioned, the PG serves to carry flavour and the VG is what produces clouds. The kind of blend you'll want to get comes down to two things: the experience you want and the vape kit you're using. If you're after a feeling comparable to smoking with a stronger throat hit, more flavour and less vapour you'll want to go for something like a 50:50 blend. The sort of vape this goes best with is a standard kit with a coil of 1 ohm or greater.
If you're wanting to make clouds large enough to block out a solar eclipse, a gentler throat hit and aren't as fussed about strong flavour, you'll want to up the VG content. Go for something like 70VG:30PG and above (80:20 is also popular though you can go all the way up to 100%VG). As VG is thicker and therefore harder to vaporise, you'll need a more powerful vape. Enter sub ohm vaping: this where the coils used within the vape kit have an ohm resistance on less than 1 can produce some serious power and clouds. For further information on sub-ohming read our Complete Sub-Ohm Guide.
HOW DO I CHOOSE A KIT TO GO WITH THE STRENGTH AND RATIO I NEED?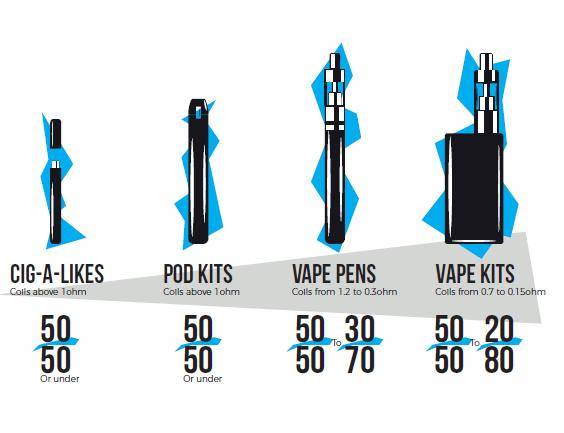 Going back to the VG/PG ratio, the amount of VG dictates the strength of vape you'll need. If you're a beginner, we'd recommend a 50:50 VG:PG ratio with a pod or vape pen starter kit. They're simple to use and once you've got some experience you can try out a few different combinations to see what works best for you. If you need a higher nicotine level, you'll also want to go for a more simple kit so you're not getting too much of a nic hit in one go.
If, after some experience, you prefer a milder throat hit and are more into filling the room with vapour, you should have a look at a sub ohm vape kit to go with a higher VG liquid. As VG is a thicker liquid than PG you need a more powerful vape to get the clouds you're after.
HOW DOES E-LIQUID BREAK DOWN WHEN I VAPE IT?
E liquid is an aerosol, not steam and when used correctly it simply breaks down into water (the vapour you exhale) and CO2 (which you breath out anyway as a normal respiratory function). Depending on the setting you use your vape on, the vapour may be quite cool or a little warm but it never feels hot like smoke from a cigarette would.
If you want to know more about what's in your vapour, we've got more information about that for you too.
CAN MY VAPE LIQUID GO OFF?
Once you've opened a bottle of e cig liquid, air can get into it and will start to oxidise it. However, this process is very slow and unless you're keeping your juice for a long time (we're talking over a year here) it should be fine. The colour may darken slightly and the flavour may become a little bit sweeter but it's typically the juices with a higher nicotine content that will degrade faster and lose some of its potency meaning you won't get as much of a hit from it. To keep it fresh just store it somewhere away from heat and light and you'll be able to enjoy it for ages. If it's in your vape and you've not used it in a while you may notice a bit of a colour change there too. The reason behind this is the fibres in your coil absorb smaller particles more easily, whereas the darker ones get left behind so your tank may look a little darker over time.