Top E-Liquid Flavours This Summer
Posted by Vape Superstore on
TOP E-LIQUID FLAVOURS THIS SUMMER
Posted at 5:00 • 01 Sep • E-Liquids
---
It's finally here- well, just around the corner. Fresh-cut grass, lazy lounging and the strawberries and cream you've waited eight months for are nearly here. Pub gardens are just about dusting off the picnic benches, and the smell of summer is in the air. Sun, sea and sangria usually require a fair bit of hassle. Trawling comparison websites for cheap flights and elbowing your way through the crowds for the last bottle of sun-cream doesn't exactly say "relaxing". You also probably have to wait until after work for the Hawaiian punch. Welcome to summer, vaping style.
FLIP FLOP LYCHEE OR STRAWBERRY BIKINI?
WATERMELON OR LIME?
We literally went giddy with the arrival of our summer stock. Sitting here with box after box of juices in their neat little rows, we had to get them out there. Whether you're a coconut or berry kind of person, we've got the summer line-up tried and tested. You'll likely recognise these big-brand names, but the summer flavours are new. Remember, most are also available as Short Fills.
DINNER LADY SUMMER HOLIDAY (SCHOOL'S OUT, SUN'S OUT)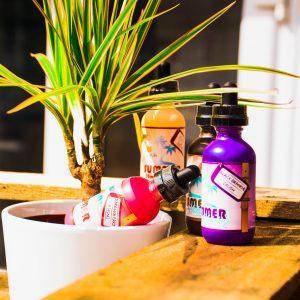 We had all winter to indulge in Dinner Lady's epic school throwbacks. Their
cornflake tart, rice pudding, lemon tart and strawberry custard classics made us proud to be British. Now summer's here: "Please, Sir. May I have some more"?
Cola Shades- Refreshing cola taste with a twist of lemon and an ice-cold finish, Dinner Lady have gone all-out with this summer classic. The suitcase and palm tree packet basically sticks you on a sunbed, and none of that waiting around for the Greek waiter who's always "on lunch".
Flip Flop Lychee- Dinner Lady are winners with their names, but these people aren't all mouth, no trousers. For an exotic lychee twist that's well-balanced by subtle citrus flavours, this one has the signature cooling effect you'll find in the entire Summer Holidays range.
Sun Tan Mango- One of your five a day (almost), this one gets really exotic. They've gone double whammy here, with regular mango and alphonso (a rare seasonal mango). Alphonso is naturally creamy, so for anyone who loves fruit and a bit of whipped cream, this literally tastes like fresh-squeezed mango in your mouth.
Black Orange Crush- Blackcurrant and orange might come separately in squash, but you'd be surprised how well they pair together. You get a burst of tropical fruit on the inhale, and cooling menthol on the exhale. Weirdly, while you might drink the two all year, you haven't lived until you've tried vaping them together.
Strawberry Bikini- Cheeky much? This one's a cocktail in a tank. Classic strawberry with a hint of lemonade, plus the icy finish basically sticks itself in a tall summer glass. Trust us, the work commute is a whole different deal when you're on cloud nine with iced strawberry in your mouth.
VAPE SUPERSTORE'S IN-HOUSE BLENDS (AREN'T WE PROUD)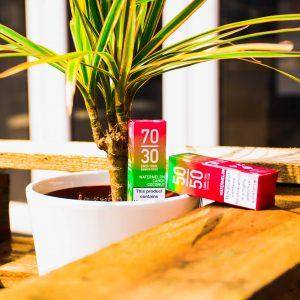 Heisenberry

- Yes, we know. The Heisen flavour made big waves. That's why we took the classic and made it even better. A full blend of berries in this has "summer" written all over it, and it's perfectly tweaked with a hint of menthol. 70/30 ratios will always guarantee smooth flavour. Our pride and joy is selling out fast.

Watermelon Candy Coconut

- Three little words of bliss. We got our mixologists to go tropical with this one, while keeping the sweet candy undertones. Not too fruity, not too sweet, plus an epic burst of watermelon. Also 70/30.
Watermelon

- Vapers are increasingly turning to 50/50 ratios for efficient wicking that still gives a solid throat hit. Packed full of flavour, but keeping it simple, this one gives you a fresh watermelon taste that's still sweet (without the candy).
ELECTRIC DEW (NOW THAT MORNING DEW IS BACK)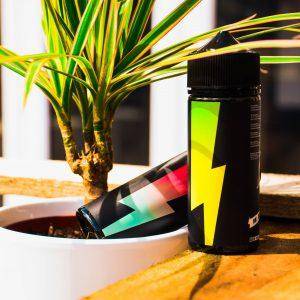 Raspberry Rewire

- British raspberries and a hint of garden-fresh mint leaves. Could you ask for more? Menthol lovers are going nuts for this one. A fresh raspberry inhale with mint (none of that artificial flavour) whips you up a nice mojito. The edgy packaging speaks for itself

The Flux

- Elderflower used to have a bit of an old lady feel. Enter The Flux. Uniquely British with a hint of lime, this goes floral with force. Edible flowers might be good for Gwyneth Paltrow. Vape-able flowers are something else.
ATTITUDE (THIS LOT INTRODUCE THEMSELVES)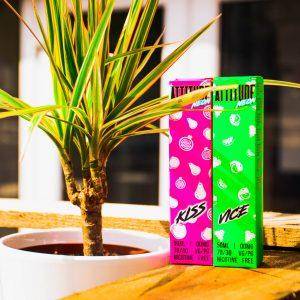 Neon Kiss- Snazzy packaging is the tip of the iceberg with Neon Kiss. Fabulously paired pear, pomegranate and cranberry will seriously up your summer game with this juice. It's fruity without being overwhelming, and the pear twist is just ripe for summer.
Neon Vice- This got so many props at the Birmingham Vaper Expo, it's still making headlines. Just like the neon green box, it's a super zingy mix of lemon, lime, grape and an epic koolada twist. It's a citrus front-runner, and we didn't order in more stock for nothing.
THE ORIGINS RANGE BY TWELVE MONKEYS (NOT JUST A BRAD PITT MOVIE)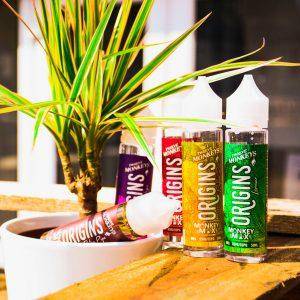 Galago- There's a scorched desert vibe behind this flavour, with juicy grape and lychee saying "refresh". The flavours are simple and delicate, but it's the grape kick that really gives it an edge.

Papio

- This is a flavour that isn't afraid of simplicity. Freshly cut pineapple is the inspiration behind Papio, and oh, does it deliver. It's bright, balanced, fruity and juicy. A no-brainer.
Lemur

- Straight from the Madagasca jungle it was named after, Lemur brings lemon lime twists to refreshing lemonade. It's zingy and cooling- just like a rainforest waterfall.

Saimiri

- Seriously, Google Image this tropical squirrel monkey. Saimiri is an exquisite, perfectly balanced blend of coconut cream and strawberry. Pro tip: for more of the coconut, it's epic in an RDA.
BIG ML CLUB (FROM THE MUCH LOVED FOLKS AT DINNER LADY)
Raspberry Mojito

- Summer from start to finish with this one. You get a sweet raspberry on the inhale, with a hint of mint that turns almost cucumber-style on the exhale. It's super cooling but still sweet. Definitely nails the mojito taste.
Grape Lemonade

 - If vaping had existed back when they filmed American Pie, the whole cast would've had this in their hand. Quintessential Grape Soda here is the result of epic summer lemonade with a deep and fruity grape balance. Yum.
BANG BANG. (WHAT, YOU'RE GONNA BRING IN SUMMER WITHOUT A BANG?)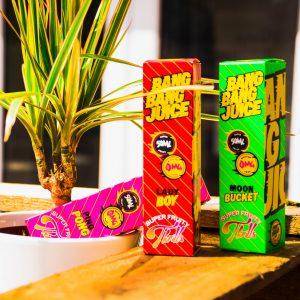 Lady Boy- So you're not going to Thailand. Great. Let Bangkok come to you. Lady Boy goes totally tropical with a blend of fruit mango, tropical fruits and surprisingly tasty Aloe Vera. Also comes in handy for pretending you have sunburn.

Moon Bucket

 - Dragon Fruit. Yeah, you don't see that every day. Sticking with Asia, this one twists dramatic dragon fruit with lemon, lime, raspberry and a kicky soda finish.
Tuk Tuk

- If you're jealous of your friends jetting off to Sri Lankan beaches, you've found your leverage. Tuk Tuk blends exotic fruits with refreshing koolada because no, tuk tuks don't come with air conditioning.

Ping Pong

- This one straddles both continents. Peach punch gets an exotic twist from hints of tropical fruit, plus the soothing Aloe Vera balances out the zest. Basically for pretending you're away.
PAIRING YOUR JUICE WITH A COCKTAIL OR G&T
It isn't summer without sipping some Pimm's in an ivy-enclosed beer garden.
That said, it also isn't proper summer without pairing that drink with the perfect vape flavour. Cocktail and vape mixologists have a lot in common. When they talk, we listen.
We can't cover every cocktail out there, but we can definitely recommend some solid pairings.
Mimosas - You'd be surprised how amazing a champagne and fresh-squeezed orange base can taste with a kick of strawberry. You haven't brunched until you've paired your Mimosa with our in-house VS Strawberry. For an more summery twist, make that strawberry and vanilla ice-cream with The Mistress.  
If your summer plans are back garden barbecues (and maybe the paddling pool), you won't need to worry about swotting up on travelling with your vape. If you're jetting off, listen up. Brits have gotten themselves into hot water on account of being unaware of international vaping laws. In Thailand, you can get thrown in jail. Elsewhere, you can face a hefty fine. Read this before you even think about flying with your gear.
HOW YOU STORE YOUR E-LIQUIDS (IT MATTERS)
For maximum flavour (that is after all why you're buying them), always store your juices in a cool, dark place. Keep e-liquids away from direct sunlight and heat. Likewise, don't go too cold, although for long-term storage, some vapers stock theirs in the fridge. Always keep e-liquids sealed and away from children or pets. For more about vaping in general or to try new juices or mods, pop in to one of our branches, get in touch and check out our other blog posts. Since we've got ivy-enclosed gardens and iced cocktail flavours by the bucket-load, we'll be here all summer.
www.vapesuperstore.co.uk contains general information about vaping and vapour products. The information provided is not medical advice, and should not be relied upon unless explicity cited. We do not make any warranties surrounding the health benefits, reliability and accuracy of written copy across all pages on our website, including blog content and content posted on social media.
---
Share this post
---