What are Nic Salts?
Posted by Vape Superstore on
Posted at 5:00 • 30 Aug • Nicotine
---
More and more vapers have been taking up the use of nic salt or nicotine salt over recent years. Nic salt is a form of processed nicotine that is used in e-liquid. A large number of vapers say they find that nic salts deliver a more satisfying experience, saying e-liquid with nicotine salt is easier to inhale thanks to its bio-compatibility. Users have cited throat hits of reduced harshness and are able to use more powerful liquids, taking in more nicotine for each vape. Many users of lower-powered devices have started to embrace nic salts.
NIC SALTS VERSUS FREEBASE NICOTINE
Conventional nicotine is also known as "freebase" nicotine. Nic salt is the kind of nicotine found in leaves of tobacco. The salts contain not only nicotine but various other organic components. Nic salt is a compound where the nicotine is bonded to other chemicals. This is not the case with freebase nicotine. Studies have been carried out which suggest nic salts were more efficient in delivering nicotine to users, including an experiment conducted by PAX Labs. The addition of benzoic acid to nic salts reduces the pH, which means vaping isn't as harsh. Many experiments have taken place with the aim of improving the efficiency of nic salts.  
One of the main advantages of using nic salts is that they deliver more nicotine than conventional juices, at a quicker pace. You are also able to use juices with a higher-nicotine content when you purchase nic salt. Nic salt juice is also noted for its generous shelf-life, with its extra stability meaning the products can be kept in storage for longer without the quality of the nicotine being reduced. Another key reason for the popularity of nic salts is that they deliver more nicotine even when you have one of the less powerful devices on the market. In fact, nic salts juice is mainly used in devices of relatively low power, such as the Aspire Gusto Pod Kit.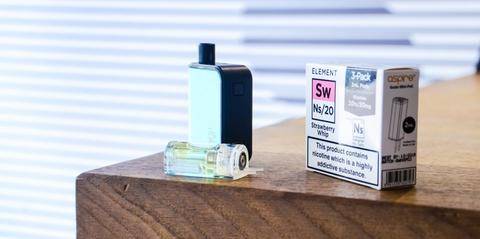 Nic salts have also proved beneficial for new vapers who have just quit smoking. They enable them to absorb more nicotine without being forced to use particularly sophisticated equipment. Some new vapers find the throat hit provided by freebase nicotine harsh, whereas nicotine salts offer a smoother draw. If you are running a high-power device, you can purchase nic salt juice with a lower level of nicotine to avoid an unpleasantly strong hit. The USA was one of the first markets to see the growth of nic salts, and they are now starting to gain increased exposure in the UK.
The juice is designed to mirror the hit that you would achieve from a cigarette. The salts are absorbed into the bloodstream much faster, delivering an effect within around 6-7 seconds. They have also helped many vapers to reduce their liquid consumption thanks to the more powerful nicotine hit on offer. The first nic salts are said to have hit the market in summer 2015 when they were first introduced by PAX. The company's Juul device featured pods containing nic salts, though this device is now unavailable in the European Union as it contained nic salt content of 50mg, 30mg above current TDP restrictions.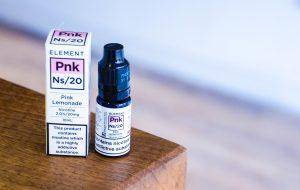 Nonetheless, a wide range of nicotine salt e-liquids can be purchased in the UK and across the EU. There is a 20mg limit imposed due to TPD requirements, whilst more and more e-juice manufacturers are including nic salts in their catalogues.
The cost of these juices tends to be slightly higher than conventional liquids, though you should find that you use much lower levels thanks to the greater potency of nicotine. It seems certain that the range of nic salts available in the UK will continue to expand as more vapers learn about their uses.
If you have any concerns about the safety of nicotine salts, read on. In all likelihood, nic salts are probably no more dangerous than inhaling freebase nicotine. There have been some concerns about the benzoic acid used to power nic salts as there has been little conclusive research carried out on its effects on humans. Some suggest that the reduced level of vapour inhaled when nic salts are used could make nic salt juices safer than their more commonly-used counterparts, and certainly safer than smoking cigarettes.
NIC SALTS FROM VAPE SUPERSTORE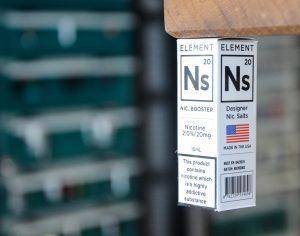 One product currently available for those wishing to experiment with nic salts is the NS20 Nicotine Shot from the ever-popular Elements E-Liquids. This 20mg booster shot is designed for use with shortfill e-liquids to enhance nicotine levels and can create a 60ml e-liquid with a 3.3mg base when added to a shortfill bottle of 50ml nicotine-free juice.
At Vape Superstore, we are seeing more and more popular e-liquids being given the nicotine salt treatment. We can come to your assistance at any point if you are interested in using nic salts and need help with selecting the right products for your needs, so don't hesitate to get in touch if you do need to find out more, whether you're an experienced vaper or new to the world of vaping.
www.vapesuperstore.co.uk contains general information about vaping and vapour products. The information provided is not medical advice, and should not be relied upon unless explicity cited. We do not make any warranties surrounding the health benefits, reliability and accuracy of written copy across all pages on our website, including blog content and content posted on social media.
---
Share this post
---