What are Short Fill E-Liquids?
Posted by Vape Superstore on
WHAT ARE SHORT FILL E-LIQUIDS?
Posted at 5:00 • 15 Oct • E-Liquids
---
Short Fill e-liquids are the innovative little solution to TPD limits on juice containing nicotine as well as providing a more cost effective option for vapers chugging through serious quantities. Essentially, they're large bottles of 0mg juice with space at the top for a concentrated nicotine shot. You can vape them as is with no nic, or boost the nicotine up to your desired level.
HOW TO CREATE YOUR LIQUID
To mix your juice, you will need to remove the lids and pop the pipette out from the top of the bottle to give you space to pour your nicotine shot into the short-fill liquid. Once you've poured the nicotine in, close it all back up and shake vigorously to get it mixed well. Like when you put in a fresh coil, it's a good idea to let your newly mixed solution to settle in the same way. The best indicator it's ready is when the bubbles in the bottle are gone. Once it's settled you can add your juice to your tank and start vaping. It can also be a good idea to give it the odd shake or tilt the bottle every time you refill your tank to ensure the juice stays evenly mixed. Short-fill e-liquids are also known as 50:10 e-liquids as this is the typical ratio of nicotine-free juice to booster liquid. A number of shake 'n' vape kits are available from Vape Superstore.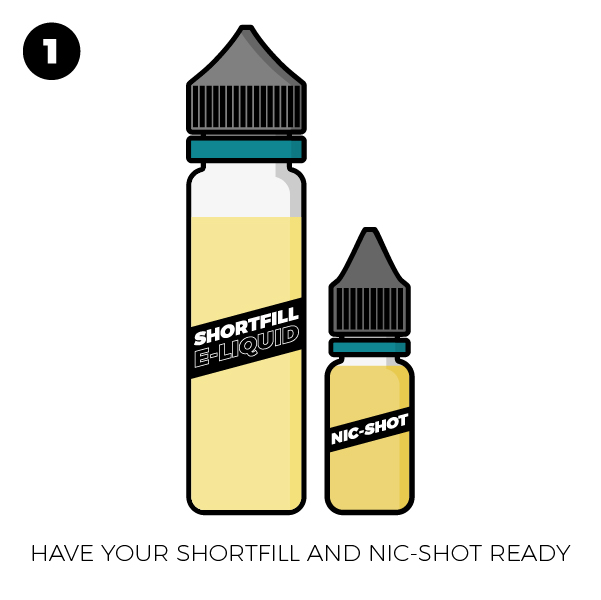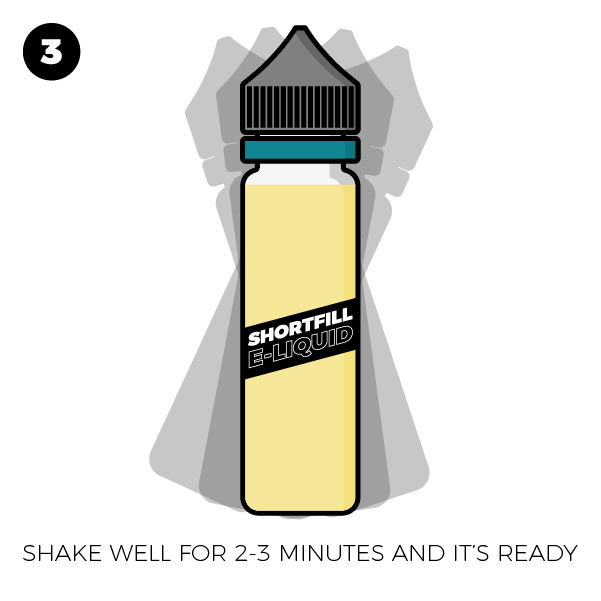 OVERCOMING VAPING OBSTACLES
One of the reasons short-fill e-liquids have become so popular over recent times is because of new TPD (Tobacco Products Directive) regulations. Now, manufacturers can only produce e-liquid containing nicotine in 10ml bottles and anything larger needs to be nicotine free. Short fill bottles normally have the capacity for 60ml of juice but contain 50ml of nicotine-free liquid, leaving enough space for your 10ml nicotine shot. Hence, the term 'short fill'. The nicotine shots themselves are actually flavourless, with the taste coming from the nicotine-free product. This means when you mix in a nic shot the flavour will be diluted, but only slightly.
More and more reputable brands are now manufacturing short-fill liquids. At Vape Superstore, we offer some of the highest-quality short-fill 50:10 liquids on the market. One of the biggest draws of short-fill vaping is that it is incredibly affordable. You can also add specific amounts of the nicotine liquid to meet your desired strength. Many vapers opt to add a 10ml of nicotine shot to 50ml of zero nicotine liquid to achieve 60ml of 3mg nicotine juice. If you need a different nicotine level, you can change the ratio by adding more or less of each liquid. There are many accurate nicotine calculators online that will tell you how much e-liquid you need to use to get just the right strength for you.
The juice is designed to mirror the hit that you would achieve from a cigarette. The salts are absorbed into the bloodstream much faster, delivering an effect within around 6-7 seconds. They have also helped many vapers to reduce their liquid consumption thanks to the more powerful nicotine hit on offer. The first nic salts are said to have hit the market in summer 2015 when they were first introduced by PAX. The company's Juul device featured pods containing nic salts, though this device is now unavailable in the European Union as it contained nic salt content of 50mg, 30mg above current TPD restrictions.
It's worth remembering that you don't need to opt for a 60ml bottle nicotine-free juice. 0mg nicotine bottles come in various sizes, though the 60ml bottles tend to be the most prominent and popular. If you find a flavour you really love, some brands even create 100ml bottles with enough space for two nic shots. More and more people are now creating their own e-juices, though the short-fill option has proved to be the quickest and most convenient method for many.
If you do wish to create e-liquid stronger than 3mg via the short-fill method, you can reduce the amount of nicotine-free juice accordingly. For instance, to create 60ml of 6mg liquid, you can add two 10ml shots of nicotine juice to 40ml of zero e-liquid. If you wish to double your reserves, just add four shots of nic liquid to 80ml of zero-nic juice. You do need to remember that the smaller the ratio of nic-free juice to nicotine liquid is, the weaker the flavour will be. Some products are quicker to mix than others, so patience may well be required to achieve the best results. It can take up to a week for flavours to reach their required level via steeping, but most mixers say the results are worth the wait.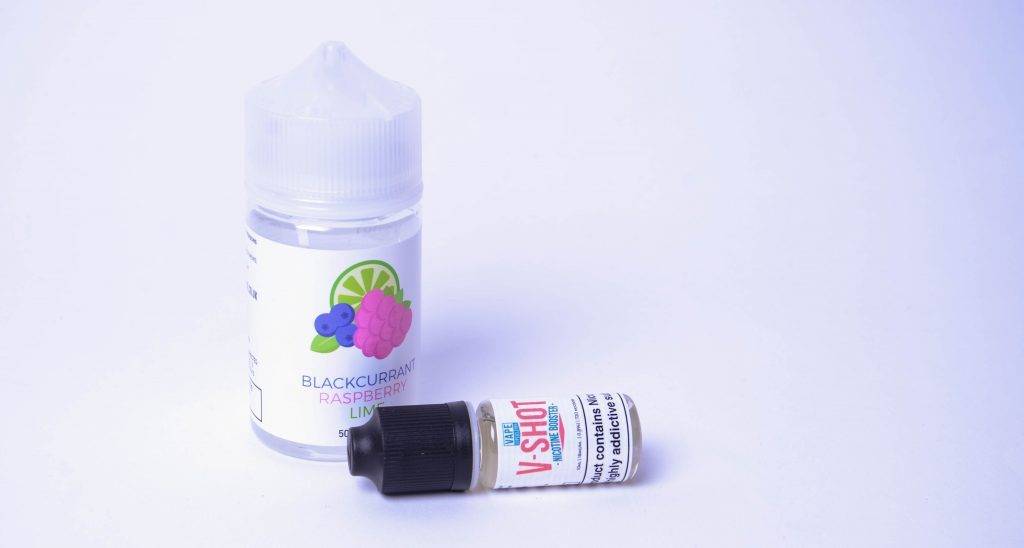 You also have many options available when it comes to the VG/PG ratio of your juices, with various different splits giving different vaping experiences. Most e-liquids feature both ingredients though ratios can vary wildly. VG and PG are odourless liquids and produce vapour when they are heated. It can take some time to identify the most suitable split for your preferences. In fact, many new vapers have managed to eliminate problems with coughing and throat irritation by experimenting with different ratios. PG (propylene glycol) is safe, easy to vaporise, non-toxic and is used in food flavourings and medical products as well as just e-liquid. VG (vegetable glycerine) is a colourless, sweet and odourless alcohol that is also non-toxic and known for its moisture-retention capabilities. One of the purposes of PG is to deliver a cigarette-esque throat hit. However, some vapers find this too harsh or irritating, which is why they opt for juices with high VG-to-PG levels. Many ex-smokers opt for juices with a higher PG content before reducing it as the throat-hit sensation becomes less important.
VG has excellent vapour production qualities, which is why so many cloud-chasers opt high VG e-liquid content. Most vapers aim to strike the ideal balance between vapour production and throat-hit. It's worth noting that juices with high VG content can take longer to soak into your wick, which can cause problems with flavour and dry hits. This is because VG is thicker than PG. However, this isn't such a big issue for sub-ohm vapers as they use larger coils with higher powered mods. Juices with an equal VG/PG ratio are typically used by mouth to lung vapers with lower powered devices. PG is more viscous and more easily vaporised, it also gives a stronger throat hit. More and more juices are offering a 50/50 split between VG and PG to cater to pod kits and entry level vapers. The vast majority of liquids, short fills especially, typically come in a 70:30 or 80:20 VG to PG ratio. This gives a very mild throat hit and super cloud production.
POPULAR SHORT-FILL SOLUTIONS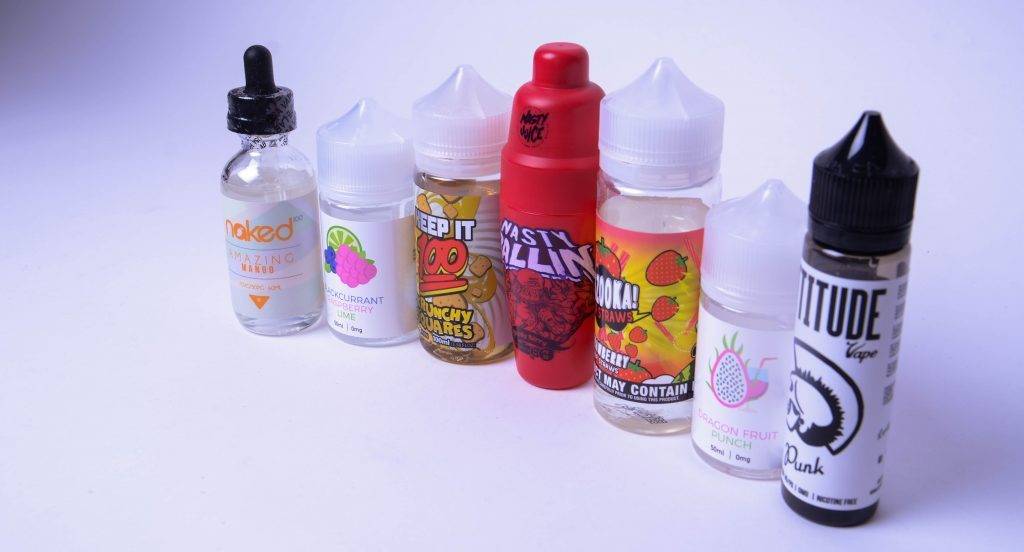 Let's take a look at some of the most popular short-fill and nicotine shot liquids we offer. The Attitude Neon Kiss 50ml Short Fill E-Liquid comes complete with a free nicotine shot. The juice fuses cranberry, pomegranate and pear and has become one of our biggest-sellers.
Simply add the shot and shake the bottle to create 60ml of 3mg e-liquid. Beard Vape's No.24 50ml Short Fill E-Liquid offers a delicious blend of salted caramel malt and has won glowing reviews online. Again, you simply need to add your 10ml shot of nicotine juice to get started with this product.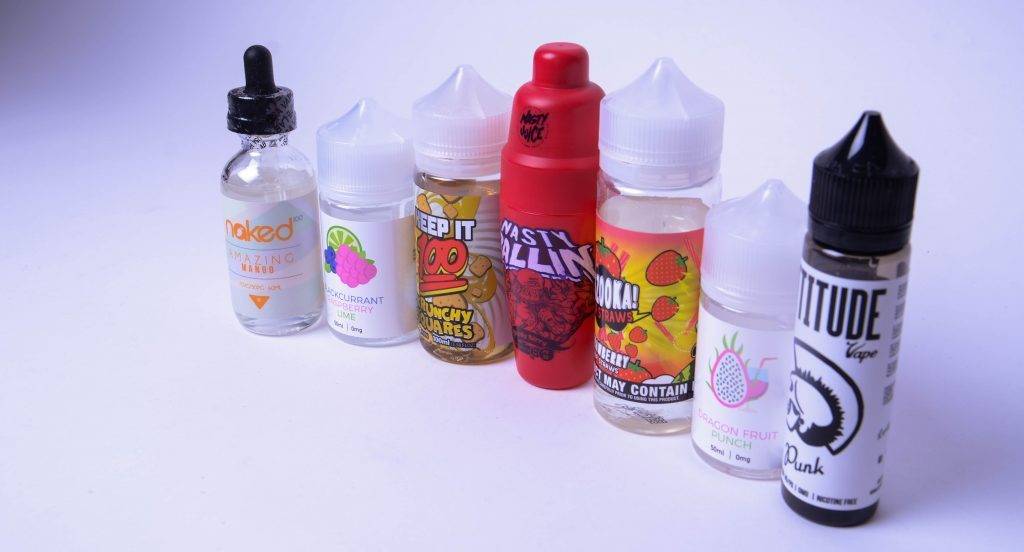 If you already have a short fill, we can give you a hand if you simply wish to purchase a standalone shot to meet your needs. Nic shots are available in an increasingly broad range, catering to different PG/VG ratios, strengths and even nicotine varieties.
You can get freebase nicotine which is the traditional format e-liquids are made with, or nic salts for a smoother and more intense hit. Our most popular nicotine shots include our very own Vape Superstore V Shot Nicotine Booster, NicNic 70%VG nic shot and the NS20 shot from Element E-Liquids. These products are ideal for anyone wishing to purchase their own shots to create 3mg or 6mg liquids.
The short-fill method is perfect for vapers wishing to sidestep the problems that come with 10ml juice products. While 10mls might be enough to last you a night out, they're less than ideal when you vape a lot throughout the day.
Whether you're seeking larger e-juice bottles to reduce your carbon footprint or just want to make your vaping experience more convenient and practical, we can help. Short-fill bottles also offer exceptional value-for-money and allow you to achieve the perfect nicotine strength for your requirements, enabling you to reduce your nicotine consumption at a steadier pace.
At Vape Superstore, we can assist you if you are interested in short-fill vaping and need help with selecting the right products for your needs. Why not take a look at the site today to find out more about what's available at Vape Superstore?
www.vapesuperstore.co.uk contains general information about vaping and vapour products. The information provided is not medical advice, and should not be relied upon unless explicity cited. We do not make any warranties surrounding the health benefits, reliability and accuracy of written copy across all pages on our website, including blog content and content posted on social media.
---
Share this post
---