Back to Basics: What is An E-Liquid?
Posted by Vape Superstore on
BACK TO BASICS: WHAT IS
AN E-LIQUID?

E-Liquid | 12 Min Read
Written by: Vape Superstore
---
E-Liquid is the flavoured mixture that is added to your e-cigarette. The mixture is added to the vape tank component of your kit, and when heated the e-liquid evaporates and creates a water based vapour that is inhaled and exhaled.
"You probably landed on this browsing for juice. Dinner Lady Lemon Tart might come with a #Throwback, but you're not nine anymore. Up your game. Know your stuff"
In the stupidly good way that turns you back into that nine -year-old, it's gotten ridiculous. It's the sweety shop all over again. Rows and rows of flavours. Everything under the sun in those little bottles. Landing on a vaping website in 2019 is like walking into Willy Wonka's Chocolate Factory. No, wait. If chocolate was the only available flavour, you'd be calling basic.
WHEN YOUR SENTENCES OPEN WITH: "YEAH, BUT TWELVE MONKEYS IS BETTER"
Quite how pitting Twelve Monkeys against Wick Liquor became the #VapingBreak talk outside offices across the UK, we don't know. Honestly, it's just hilarious. Fully-grown adults in suits and ties talking Bubblegum Millions (only to be interrupted by Chris, aged 32: "Nah, mate, if you haven't tried Lollipop, you haven't lived").
Quote your juice brands A-Z you might, but you're going to get caught out. It's called walking down the street blowing boss clouds and getting stopped by a total newb.
"Hi. Sorry to bother you. I've seen all these people vaping and I'm considering it. Could you tell me what's inside the liquid?"
Don't let "Um, sorry, I don't know" be your reply.
E-LIQUIDS: EVERYTHING YOU NEED TO KNOW (PLUS HOW TO PICK YOUR PERFECT ONE)
E-liquids probably auto drops-down in your browser. If you're vaping, you'll already know that you ditched the "e-cigarette" word. Vaping is way cooler. Still, you're not a moron. You know that you're holding an electronic cigarette (and you should've figured out that e-liquid got its name because of that).
1. WHAT ARE THE INGREDIENTS OF E-LIQUID?
You were probably five or six when those steaming-hot school puddings were the highlight of your day. If anyone had asked you what you'd eaten for lunch, your reply was probably three words: "Fish, chips, cake." If stretching past three just isn't your jam, you're in luck. E-liquids have just three base ingredients.
Propylene Glycol (PG)-

Sounds mega-fancy, totally isn't. Propylene glycol is a clear, syrupy liquid with no odour, no colour, and no taste. You'll find it in a ton of everyday items like deodorants, cosmetics and dyes, adhesives, and Antifreeze. The chemical itself is classed as an alcohol, but that's scientific (just like the molar mass of 76.09 g/mol- one for the office break). In e-liquid, PG acts as the flavour carrier and source of

throat hits [link to Throat Hit v Lung Hit]

.

Vegetable Glycerin (VG)-

Sounds borderline gross, again, isn't. Vegetable glycerin is the colourless, odourless, sweet-tasting liquid that is once again a chemical "alcohol". It's thicker and more viscous than PG- probably why it's responsible for the amount of vapour. You'll find VG in cough syrups, food flavourings, ointments, plus aftershaves and toothpastes.

Flavouring-

Kind of a given. Whether it's strawberry, donuts or tobacco, the flavour you'll be getting in your e-liquid is a result of a pretty simple formula. It's called taking the two base ingredients of PG and VG, then whacking in some taste. If they left flavourings out, they, er, probably wouldn't have many customers.
ARE THE INGREDIENTS SAFE?
We'll be honest, here. The long-term effects of vaping won't be known for a while. Medical research will need a good few decades to study the outcomes, but from what we know, the ingredients have the green light.
PG is "generally recognized as safe" for use in food by the US Food and Drug Administration (USFDA). With a likewise "mostly safe" status (plus some interesting skin and digestive benefits), VG is also recognized as ok, although applying it to skin can cause allergic reactions. Bear in mind though, that these indications are for oral or topical consumption/application. Vape juice isn't something you swallow. It also isn't something you add to your nightly moisturising routine.
You'll see this on the side of your bottle. 70/30, 50/50, plus a fair few others. That'll be the ratio of PG to VG, which plays a pretty big role in your vaping experience.
Higher PG ratio- That'll give you a stronger throat hit. Popular with transitioning smokers, easily tweaked with lots of options- basically, you can still have high PG without getting too harsh of a hit.
Higher VG ratio- The bee's knees for denser, thicker vapour. High-VG might lack the throat hit you'll get with high-PG, but hardcore cloud chasers are all over it. If you can't figure out whether you're a cloud or flavour chaser,

clicky

.
If you're filling up a tank on a box mod like the SMOK Alien, the world is your oyster. You can max out the VG for clouds or flip it on its head for a throat hit. Some devices will influence your choice, though. Basically, Mouth to Lung (MTL) kits will steer you more towards high PG. Not unwelcome, since MTL kits mimic the smoking sensation. Sub-Ohm tanks give you more freedom: higher VG here will intensify both the clouds and the flavour. Still unsure on what the best e-liquid is to start out with? We've got a guide for that.
INGREDIENT #4: NICOTINE (AND IT'S OPTIONAL)
"That Starbucks order of yours. It used to come with an espresso base (plus the option of an added shot). Kind of not the deal anymore with caffeine-free, but pretty good for our little analogy."
E-liquid doesn't have to come with nicotine. The addictive chemical that gets smokers hooked is "take it or leave it" in e-liquids, but it's often chosen by quitting smokers. If you're one of them, you were probably looking for an alternative to a life-threatening habit.
Since a staggering amount of adults still think that nicotine causes cancer, we'll put this in bold. Nicotine does not cause cancer. It's addictive and has a stimulating effect on the brain, but no doctor will ever turn around to a cancer patient with: "Yep, it was the nicotine".
Options:
You can buy e-liquids already mixed-up with nicotine.

You can buy nicotine-free and add your own with

nic shots

.

You can vape at 0% nicotine.
In 2017, TPD laws made nicotine warnings on e-liquids containing it a requirement. That's to let you know that the substance is in there (plus a gentle reminder that it's addictive). For more on nicotine and to find your perfect strength, click here.
2. HOW E-LIQUIDS ARE MADE
"Obviously, Oompa Loompas. If you're slightly curious about what they're doing, keep reading"
If "out of stock" for your favourite juice has been your biggest beef of 2019, you've probably cottoned on. It's made in factories. If Labs is your cup of tea, you've probably also realised that something this exquisite was conjured up by experts in...yes, a lab.
E-liquid actually takes many months to make. It starts with the careful measuring of ingredients. Then a fair bit of mixing, a lot of shaking, a huge amount of checking, plus some steeping. In a way, it's very simple. Getting it right, though? These people come qualified for a reason. They also come with an obligation to comply to a stringent battery of tests and inspections (and bloody well should- you don't want to be vaping stuff "made in a shed").
RULES AND REGS (THAT ARE IN YOUR FAVOUR)
You can go dodgy and not have a clue what you're vaping. Considering you probably took up vaping as an alternative to smoking, we'll go ahead and say it: Know what you're buying. If it's suspiciously cheap and being sold on a market stall, steer clear. If you want quality stuff that's light on your wallet, we have plenty of clearance lines. There's also 4 for £10. Bargain.
As per the government's rules and regs, all e-liquid manufacturers must undergo everything from emissions testing to something called MHRA (Medicine and Healthcare products Regulatory Agency). For something they went and shortened, good job, gov.uk on simplifying what MHRA does..
MHRA is the "competent authority for the notification scheme for e-cigarettes and refill containers in the UK and is responsible for implementing the majority of provisions under Article 20". Basically, as a consumer, you're looking at full safety during manufacturing. Anyone approaching us without the MHRA compliance knows where the door is. Our stuff is 100% compliant.
NIC SALTS, FREEBASE, POD LIQUID (AND SAVING A TON OF CASH WITH SHORTFILLS)
"Remember back in the day, when trainers were just trainers? Good luck navigating Nike's footwear website. E-liquids don't come with cushioned soles, but you get to pick how those clouds happen."
6 Things To Pay Attention To:
Knowing what Freebase Nicotine means:

Nobody was referring to e-liquids as freebase until nic salts came along. You had one choice: old-school, and you could like it or lump it. Freebase is the traditional form of nicotine. Chemically, it's nicotine in its purest form. It's more potent when heated, and it's the luck that Philip Morris Tobacco landed on in the 1950s. The company also found that by

playing around

with the pH, they could provide more of a kick (and get smokers more addicted- nice one).

Knowing what Nic Salts are:

Aside from a full-blown craze, nic salts are nicotine salts. For something new, they've actually got some pretty original roots. Nicotine salts are the "crystal salts" you naturally find in the tobacco leaf plant. They deliver nicotine faster than Freebase Nicotine with a stronger rush. Instead of absorbing in a build-up way, they enter the bloodstream super-fast. Speed-wise, it's equivalent to a cigarette- about 6 or 7 seconds.

Not worrying about benzoic acid:

Nic salts are loved for their quick nicotine delivery, but they're also a major gamechanger for smoother vaping. That'll be the addition of benzoic acid. All that does is reduce the pH. If you're worried about the benzene in benzoic acid, here's the study showing that

air has more benzene than e-cigarettes

.

Pod E-liquids:

Pod Kits are the hassle-free, all-in-one devices that are super-portable, disposable, and your best bet for nic salts. Pod Kits tend to come with their own, pre-filled or refillable e-liquids. Slightly lower on the choice front, but the flavour is still up there.

ShortFills (never feel short-changed again):

ShortFills should get a Nobel Prize or something. Larger bottles, lower prices, still fully TPD-compliant. You mostly get 50ml of juice in a 60ml bottle (larger available). You throw in nic shots (or not) then basically laugh all the way to the bank. Our range is

huge

.

CBD Liquids:

If you've heard of CBD but don't know what it is, you're looking at Cannabidiol-based liquids. With

benefits

from anxiety reduction to lowered inflammation, CBD is the new wellness trend that's 100% legal (but won't get you high).
4. HOW TO CHOOSE THE RIGHT E-LIQUID
"Warning- Comes With A Major Downside. Just When You've Found Your "Perfect" Juice, They Go And Bring A Better One Out."
We won't lie. Mostly to keep track of stock (and stop you grumbling), we've got a team who track what's clicked on. "It's all over the place," they said recently. "Not sure what people are doing. Looks like binge-browsing". We were mildly flattered at being compared to Netflix. Then again.
Vaping is an experience. Here's how to perfect it.
Nail your flavour:

Can be daunting if you're starting out, but that's why we fill our stores with experts. You can walk in never having vaped a drop and we'll be right on it. Expect to be asked if you're a smoker, what foods or drinks you like, plus your favourite smells. You can try before you buy. Drive us up the wall with "nope, not right". We've seen the fussiest vaper ever- trust us, you aren't it.

Try something new:

Maybe you settled on berries or cereal ages ago. The clue's in the word, here. "Ages ago." Loads has come out since. If you've never tried

pistachio crême brulée

, a

hint of fudge

in summer fruits, or

cold pineapple watermelon

, what are you waiting for?

Know your brands:

It's hard to explain. When you just "gel" with that one, favourite brand...yeah, you're vibing. Some people are straight-up

Dinner Lady

. Others hang tight with

Element

. If you're into

Vampire Vape e-liquid

, you probably knew from day one. Anyone swinging the

Twelve Monkeys

tree, we hear you. There's tons of lesser-known brands, though. We stock the big and the small for the same reason. They're amazing.

Find your perfect PG/VG ratio:

We've already broken down what PG/VG ratios are, although if you're still not sure, just ask. Literally. Hop back to our main page and click Live Chat. We're here to answer anything.

Nicotine: Yes, No, How Much:

You'll want to decide off the bat if you want to vape with nicotine. Our

handy guides

will give you a good starting point, but you can always ask. If you're mixing your own nic shots, we do recommend doing so reasonably. 3mg and 6mg strengths are the most-used. Higher is fine if you're tapering off smoking. You can select e-liquids on our website by nicotine strength.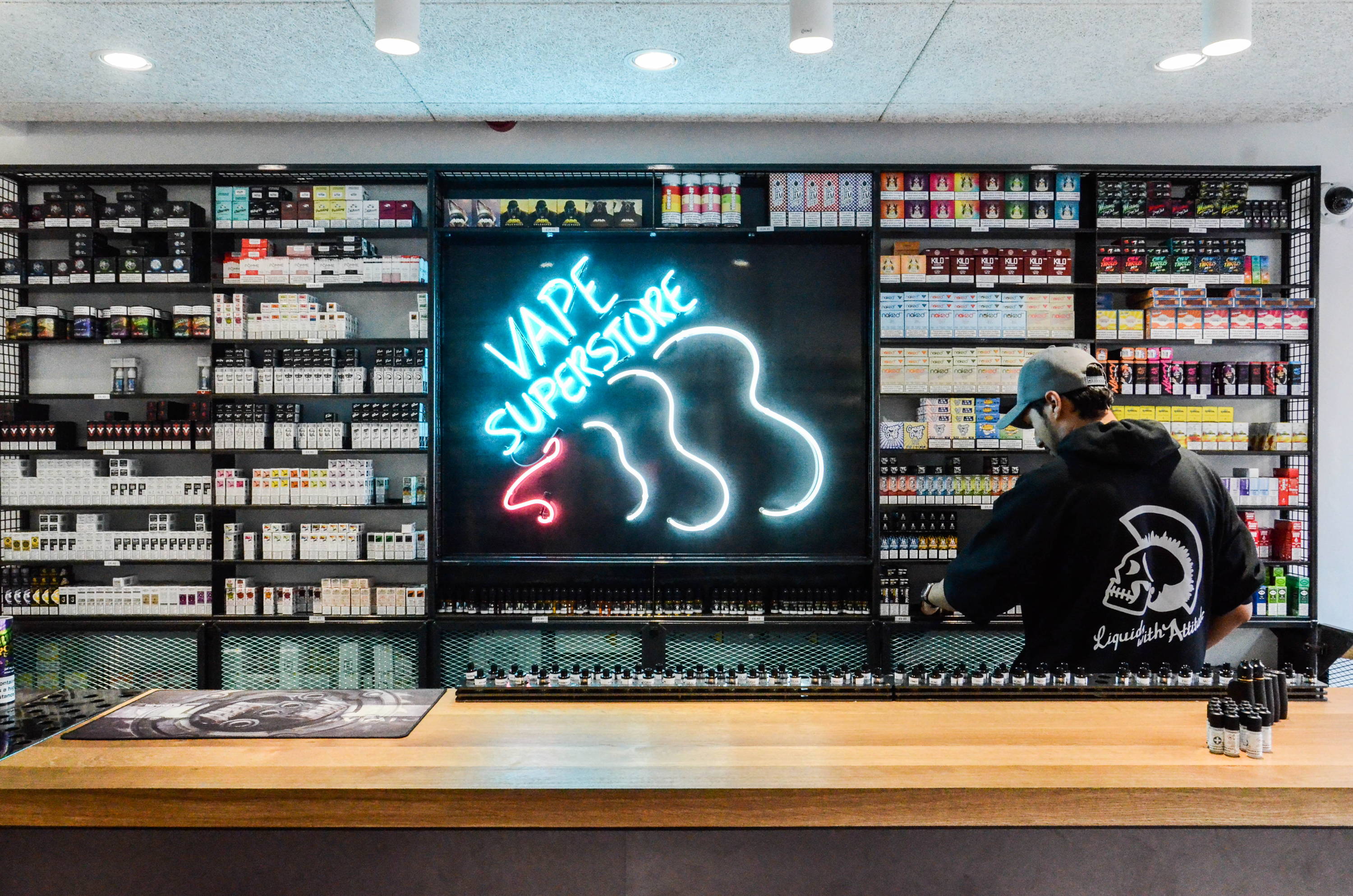 Call us biased, but we still think we're the best. FYI, no big boss looming over our shoulders telling us to say that. Honestly, when we look around our seven stores and brand-new website, we're so proud of what we've built. Mostly though, it's the giant sodding grin on your faces when you get back to us: "No words for helping me discover Just Jam. Thank you so much". Cassie (whose age we won't ask), you're welcome.
In-store (and why):

Call it old-fashioned, but when it comes to vaping, trying in-store is still a favourite. Our stores have great lounges with Wi-Fi (cafe in some), you get to try before you buy, and you don't end up with any waste. Didn't dig caramel? Fine. Try something else.

Online (and why):

Same reason you buy anything online. It's called "shopping sitting on the couch". Our website is open 24/7, 365 days a year. You don't lift a finger. Well, except to pick up the parcel. Free, first-class delivery on all orders above £20.

In case massive savings and liquid cash are up your street:

Vape Superstore's Vape Club launched just in case...you know, sometimes, people like free stuff. Rewards, earning liquid cash, birthday bonuses, plus exclusive savings are all waiting for you. We'll even reward you for signing up (free).

The supermarket option: E-liquids are now available in supermarkets. ASDA stocks Dinner Lady. Tesco even stocks Vype and MyBlu. You'll be more limited on choice, but it's a handy option.
6. HOW TO MIX YOUR OWN E-LIQUID
DIY juice does require bulk buying of base liquids and your own flavour concentrates, but it can work out significantly cheaper.
Stuff you'll need includes: E-liquid and storage bottles, labels, gloves, syringes for mixing by volume, and some pretty accurate weighing scales. If it sounds like too much work, you don't have to buy the fanciest labels. Some of our most popular brands are the cheapest!
If you made it all the way through this, you've earned yourself the biggest #Reward ever. Shop our e-liquids collection today (before the faves disappear- trust us, we can see the bottles flying off the shelves).
For anything else or to try out new mods or e-liquids, pop into any of our six stores or get in touch. For exclusive offers, promos and savings, follow us on Facebook, Twitter and Instagram.
www.vapesuperstore.co.uk contains general information about vaping and vapour products. The information provided is not medical advice, and should not be relied upon unless explicity cited. We do not make any warranties surrounding the health benefits, reliability and accuracy of written copy across all pages on our website, including blog content and content posted on social media.
---
Share this post
---