Vape Superstars: 12 Monkeys E-liquids
Posted by Vape Superstore on
VAPE SUPERSTARS: 12 MONKEYS
E-LIQUIDS
AN INTERVIEW WITH 12 MONKEYS
---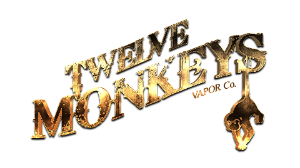 One of the longest standing brands we've had on the Vape Superstore shelves is Twelve Monkeys and it's easy to see why. Mixed in Canada and shipped to our shores, the team at Twelve Monkeys are at the go-to for many vapers looking for juicy, fruit flavour based e-liquids. Their shortfills are so carefully crafted they even have varying VG and PG ratios to make sure the flavour comes out just right.
With fruit being the most popular flavour amongst vapers, Twelve Monkeys is an obvious choice for many. Their range includes more traditional fruit bowl favourites like apples, raspberries and peaches to more exotic options like lychee, pineapple and guava.
Their original core range was such a hit they've remixed and launched Ice Age - comprised of all their best sellers with an extra refreshing hit of cooling menthol. For those who find the original e-liquids a little sweet, there's the Origins Range. You still get all of the impactful and vibrant flavour but they were designed to be especially clean and fresh - perfect for new and experienced vapers alike.
Following the shifting focus on newer vapers looking for a higher nicotine level, the team at Twelve Monkeys have now also released their original range in a nic salt solution too. All the original flavours are packaged in pocket-sized bottles that are perfect for pod kits and lower powered mouth to lung kits. We caught up with the mixologists at Twelve Monkeys Vapor Team 🐒 to see what we can expect from them next.
"WE BELIEVE THAT GREAT TASTING FLAVOURS ARE AN INTEGRAL PART OF HELPING A SMOKER MAKE THE TRANSITION FROM SMOKING TO VAPING; WITH THE END RESULT OF QUITTING SMOKING ALTOGETHER."
12 Monkeys Vapor is a Canadian premium e-liquid company that was founded in 2014. At that time, there were only basic vape flavours in our market, so we set on a mission to create the best tasting e-liquids we could! One of our early favorites was Tropika (lychee, papaya, passion fruit). We became well known for our flavour Kanzi (watermelon, strawberry, kiwi).
In regards to our name, the founders of the company believed that monkeys are intelligent, funny, and loved by many. They also really enjoy eating fruits and because we specialize in fruit flavours, the choice of monkeys stuck. Why the number 12? It just so happens to be one of the founder's favourite number!
WHAT ARE YOUR MAIN PRIORITIES AS A BRAND?
Our Canadian company strives to help people quit smoking by bringing them delicious, complex flavours made with the highest quality ingredients. We believe that great tasting flavours are an integral part of helping a smoker make the transition from smoking to vaping; with the end result of quitting smoking altogether. Another important priority is safety; we are happy to say our products pass all required safety and lab tests.
WHAT MAKES YOU DIFFERENT FROM YOUR COMPETITION?
In terms of flavours, 12 Monkeys specialises in premium, multi-layered, mouth-watering, and accurate fruit flavours thus, providing our customers with some of the best tasting e-liquids on the market! We realized that not everyone likes sweet flavours, so our salts collection was designed to have 0 added sweeteners.
For our brand, we really want to create a unified and full experience for the consumers, hence, we have our own team hashtag #Tribe12M. We love talking to fans we meet on social media, at trade shows or at store events!
WHAT'S YOUR FAVOURITE FLAVOUR FROM YOUR RANGE AND WHY?
All our flavours have a place in our team's weekly vape rotation as each flavour has their own specialties however, Kanzi (watermelon, strawberry, kiwi) and Hakuna (apple, cranberry) tend to be very common favourites! Our fans also seem to agree with us as we've been so honoured to have these flavours win multiple awards throughout the years.
WHAT ARE YOU MOST PROUD OF 12 MONKEYS FOR?
What started out as a small e-liquid company in Canada, we're very proud to be able to share our delicious flavours with other international countries. What makes our jobs so fulfilling is hearing from customers that they were able to quit smoking from using our products! Being able to help smokers on this challenging journey of quitting smoking brings us absolutely the greatest joy. We even met a few fans who chose to get our logo tattooed on them, how cool!
WHAT'S IN STORE FOR TWELVE MONKEYS THIS YEAR?
We are very excited to finally be launching our much anticipated 12 Monkeys Salts in the EU. Additionally, we're looking forward to announcing a new line called "Circle of Life" and we cannot wait for everyone to try it!
IF YOU COULD GIVE ONE PIECE OF ADVICE TO A NEW VAPER WHAT WOULD IT BE?
Try your best to find a device and e-liquid flavour that you thoroughly enjoy. Most local vape shops will be more than happy to assist their customers through their journey of transitioning from smoking to vaping and will support them along the way. We understand that quitting smoking can be a very challenging process but if you persist, it will be all worth it in the end.
If we could give some extra advice, please remember to always purchase e-liquids from an authorized retailer. Prime your new coils before using it. If you're using external batteries for your mod, always check that there are no damages to the batteries and that the wrap around the batteries are intact with no rips. Lastly, always carry your extra batteries in a case and never carry them around in pockets with loose change.
THE VAPE SUPERSTORE VERDICT...
Looking at our top five, there's a pretty even divide between the richer and more booty fruit flavours from the Classics and the lighter more subtle tones of the Origins range. Starting off we've got Shoku - featuring a more traditional pairing of raspberry and strawberry with a tart and tropical twist of passionfruit. Crisp, smooth and just the right amount of sweet, this one is a great introduction to Twelve Monkeys if you've never tried them before.
---
Next up is Kanzi, a delightfully punchy mix of strawberries, complemented by a soft note of watermelon and a zesty touch of kiwi. Both the original and Iced version of Kanzi are constantly flying off our shelves and with the new range now even nic salt users can give it a go too.
---
Another hugely popular choice from the Origins range is Galago. The familiar and crisp tones of grapes offer a bright top note, followed by the more unusual and soft sweetness of lychee. A simple combination but it's one of those all day vapes you won't want to put down.
---
For those who enjoy something a little more zesty, Puris is their go-to. Soft notes of fuzzy peaches offer a honeyed top note, only to be followed by the tart and citric notes of mixed citrus fruits.
---
Finally, we've got Matata. A little like Galago, it features the clean flavour of grapes in the base note, complimented by a crisp overtone of apples. Surprisingly bold and incredibly flavourful, this one is now available for nic salt users too.
Have you had the pleasure of trying 12 Monkeys premium e-liquids? Let us know in the comments what your favourite juice is.
www.vapesuperstore.co.uk contains general information about vaping and vapour products. The information provided is not medical advice, and should not be relied upon unless explicity cited. We do not make any warranties surrounding the health benefits, reliability and accuracy of written copy across all pages on our website, including blog content and content posted on social media.
---
Share this post
---