Vape Superstars: Doozy Vape Co.
Posted by Vape Superstore on
VAPE SUPERSTARS: DOOZY VAPE CO.
---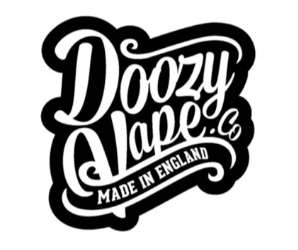 We're always listening to what our customers want and do our best to bring you new and exciting vape brands to try. A clear winner that you guys can't seem to get enough of (making them our next Vape Superstar) is Doozy Vape Co.
If you've not heard of them yet, Doozy are another UK made e-liquid brand that's been around since 2014. Like many artisanal brands, they started with a core collection and have since expanded thanks to the huge popularity of their vibrant and juicy flavours. Whether you enjoy a purely fruity vape, like something a little sweeter and candy inspired or enjoy a touch of ice, Doozy will have something for you.
Flavours aside, you've got plenty of options regardless of your kit set-up and nicotine requirements too. Choose from high VG 50ml shortfills if you're looking for some serious clouds and smooth flavour (might we suggest the Doozy Cocktails range?). Or, if you're a mouth to lung kind of vaper, you can pick up a nic salt or one of the new range of 50:50 e-liquids (more on these later). We had a chat with the founder of Doozy, Imran, about how they got started and where the brand is going in 2020.
"ANOTHER CHALLENGE IS CONSTANTLY BEING PLACED IN THE SAME CATEGORY AS TOBACCO WHICH IS SO UNFAIR CONSIDERING ONE PRODUCT IS PROVEN TO BE SAFE AND THE OTHER PROVEN TO CAUSE DEATH."
Doozy was established in 2016 but the groundwork started in 2015. Imran the Founder and CEO of Doozy Vape Co began vaping in 2012 and from those early days he identified a gap in the market for genuinely amazing flavours because at the time the offering was very average. The question was where to start. Whilst the trial and error process had started and baring in mind the concentrates were not like they are today but I was still able to come up with some true greats like Pink Haze and Cool Crush etc, there was a belief and determination that he could make it happen. Attention to detail has always been one of the key fundamentals at Doozy, starting with a name that had meaning, contained few syllables and rolled off the tongue. It started off as a concept and one man's dream to deliver a variety of enjoyable liquids to like minded vapers, today countless people across the globe enjoy the Doozy experience and helped many lead healthier lives by staying off the stinkies! The job is not yet done as there is a long road ahead and everyone is welcome to come along for the ride!
VS: WHAT MAKES YOU DIFFERENT FROM YOUR COMPETITION?
What makes Doozy different from its competition…that's a tough one but a very good question at that. I think Doozy has carved its own path within the vaping industry. Imran is and has been the main person that decides everything that is released and due to this fact the passion and drive flows without dilution. Every single drop in every single bottle contains everything true to the brand. The careful development of flavours, customer service, branding, respect, passion and overall the relentless pursuit of ensuring the end user has spent their money on a truly amazing product. The end user is always our focus as we never stop being an end user ourselves so we deliver what the people want at a price that is affordable.
YOU OBVIOUSLY HAVE STRICT QUALITY CONTROL MEASURES; CAN YOU GIVE US A BRIEF RUNDOWN ON HOW YOU ENSURE UTMOST QUALITY IN EACH BATCH?

We take quality control extremely seriously having made this one of the founding rules never to use any flavour enhancers or carry out any malpractice which is not permitted. This is a moral and religious issue as we are accountable for what we produce and no amount of money can be amassed at the cost of peoples health. All our liquids are batch tested, we send our liquid for third party testing so they are screened by a non affiliate company who produce Toxicology reports and carry out emission testing on all our liquids. It doesn't matter if its 0mg Short Fill, Long Fill Aroma or Pre Mixed we have MSDS for everything and all our liquids that contain Nicotine are registered with MHRA with ECID numbers. Each Batch is tested in our ISO 9000 accredited laboratory to ensure we have full traceability. I remember when we finished the dessert range without any enhancers it was a huge achievement, it was tricky especially Dream Shake and Berry Pie and to put the cherry on the cake we won an award for Dream Shake being the best Chocolate 2019.
WHAT'S YOUR FAVOURITE FLAVOUR FROM YOUR RANGE AND WHY?
My personal favourite is Golden Elixir which is an extremely popular Caramel Tobacco which I happened to create by accident. Sometime in 2015 during the research phase. The flavour Liquid Gold was almost finished, which is Pastry, Vanilla Custard. This is our most produced liquid even after 4 years. I was in a hurry and was testing tobacco at the time so its all I had and I never like to leave home without a full tank so I topped it up with Liquid Gold. This mix of Tobacco and Custard i was vaping in the car was absolutely amazing and with some refinement became Golden Elixir which is our most popular flavour in the UAE currently. I struck Gold with that one!
WHAT ARE THE CHALLENGES YOU FACE IN THE INDUSTRY?
The challenges we face in the industry are many. Due to our ethos of always creating flavours from concentrates that have been screened for nasties before the Research and Development starts makes life easier for us in the long term not having to go back and change our recipes to pass compliance. Our biggest challenge is how do we innovate whilst keeping our target audience satisfied. Vapers demands are high and expectation levels are great so this becomes the challenge and as soon as a new range is released we start all over again. Another challenge is constantly being placed in the same category as Tobacco which is so unfair considering one product is proven to be safe and the other proven to cause death. This prevents us from using social media to its full capabilities, its like boxing with one hand tied behind your back. Despite this disadvantage collectively the Vape Industry hasn't done a bad job so well done Everyone
WHAT ARE YOU MOST PROUD OF DOOZY FOR?
I am proud of Doozy for not changing anything from what I set out to achieve and remaining focused on what we are doing rather than what others are doing. I firmly believe this has resulted in Doozy being sold in every continent and enjoyed by vapers across the globe. I always said I will stick to what I know best and not diversify into anything for the sake of it. I am proud that Doozy portrays my passion and it is clear to see that there is character in the brand and it hasn't been commercialised to the extent that its identity has been lost.
WHAT'S IN STORE FOR YOU THIS YEAR OR BEYOND?

This year we have some new products and ranges in the pipeline. We are not looking to re-invent the wheel but if we can pull it off there will be some cracking Short fills with a matching set of Salts which we are working on for a release in the Spring and a Devine Range for Winter with our imminent release of Flava Junki in a few weeks time which is a 120ml Short Fill range following the success of Juice Junki so watch out for it on our Social Media @doozyvapeco
PREDICTIONS FOR THE NEXT 12 MONTHS IN THE E-CIGARETTE INDUSTRY?
Predictions and the Ecig Industry, we have been around long enough to know we can't predict further than 60 days because there is always the potential for something to come out of the blue and change the entire dynamics. The best example was 2017 when everything went to 10ml TPD and within a month the Short Fill was born and took over leaving many of us in a situation which some companies have only recently got over and some unfortunately didn't make it at all. I would say the TPD will rear its head again as it hasn't really surfaced since 2016/17 and Salts will continue to dominate the market as it is doing currently. Who would have thought 10mls would be back in fashion again!
IF YOU COULD GIVE ONE PIECE OF ADVICE TO A NEW VAPER WHAT WOULD IT BE?
If I could give one piece of advice to a new Vaper that would be to make sure they try all our flavours :) especially considering we cater for Sub Ohm, 50:50 free base starter liquids and Salt Nic in 10 and 20mg so we cover all bases. On a serious note they should be more prudent in the choice of liquids they spend their money on because there are many liquids out there unfortunately that are not tested due to the loopholes of the TPD which doesn't make it compulsory for Short Fills to be tested. Your vape is personal to you, it should be the right device, flavour and Nic Strength for you as an individual if you get this right then hopefully you will never look at a cigarette the same way again. The fact they are reading this means they have come a long way so well done you!
THE VAPE SUPERSTORE VERDICT...
Doozy have expanded their range to cater to a whole lot of tastes since they started. There are a few stand-outs in the lineup on our shelves that we think are worth a look if you've not tried them already. The first, a classic dessert in a nic salt formulation is Vanilla Custard. It pairs the smooth creaminess of vanilla custard with a crisp and sugary hint of crumbly biscuit for an indulgent and multi-layered vape that'll satisfy any sweet tooth.
---
Next on the list is one for the fruit fans who enjoy something a little different. Tropical Pear Martini is one of the delightful blends from the Cocktails range. It combines the juicy and slightly tangy notes of pineapple with a crisp touch of pear and a green twist of kiwi. Punchy, sweet and with just the right of tang it's a clear winner.
---
Tobacco fans are catered to with Doozy too, one of the flavours that's always flying off the shelves and into your post boxes is Caramel Tobacco nic salt. It does what it says on the tin - combines a luscious note of sweet caramel with a smooth and earthy tobacco note.
---
We mentioned the new 50:50 e-liquid flavours before and there are a couple in particular we think you'll love. Mixed Berries is a delightfully simple but incredibly satisfying vape. It combines a handful of mixed red and dark berries with the sweetness of grapes to make a well-rounded and vibrant e-liquid
---
Finally, another from the new 50:50 range is Blue Raspberry. If you enjoy a fresh tasting vape with a slightly candied flavour, this is the one for you. A tart pop of raspberry makes for a fruity top note, followed by the slightly sweeter hint of sweets on the exhale.
Have you had the pleasure of trying Doozy premium e-liquids? Let us know in the comments what your favourite juice is.
www.vapesuperstore.co.uk contains general information about vaping and vapour products. The information provided is not medical advice, and should not be relied upon unless explicity cited. We do not make any warranties surrounding the health benefits, reliability and accuracy of written copy across all pages on our website, including blog content and content posted on social media.
---
Share this post
---