The Advantages Of Mech Mods
Posted by Vape Superstore on
THE ADVANTAGES OF MECH MODS
Posted at 5:00 • 01 Sep • Tech
---
HOW THE PAST IS BECOMING THE FUTURE
In 2017, The Verge magazine's 2.46 million followers got an interesting headline: "The smartest watches are still mechanical". For the record, this is an online magazine whose Twitter handle describes itself as "covering life in the future". The website that dishes out virtual reality news and Spotify hacks basically took a giant swipe at everything it represents, then published it.
Vapers have a lot of choice. From all-in-one disposable pod kits and stealth vape pens to heavy duty vape mods and mech mods, there's some pretty staggering variety. With more of our customers asking about mech mods, we figured we'd give you the lowdown.
WHAT ARE MECH MODS? (THINK STRAIGHT-UP OATS INSTEAD OF FANCY GRANOLA)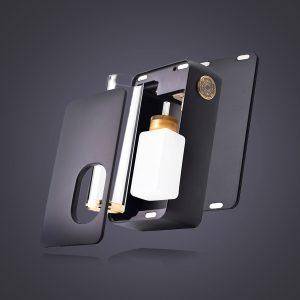 Mech mods are short for mechanical mods. Describing them as "a simple piece of equipment" is a bit of an understatement- they're simple as it gets. Instead of complicated internal circuitry and sophisticated controls, they're just a metal tube holding an 18650 power cell battery and conductive elements directing current flow to the attached atomiser.
Here's a weird list from people who sell stuff. Not what a mechanical mod has. What it doesn't have.
A total number of internal parts that you can count on one hand

No internal circuitry

No voltage, wattage, or battery display screens

No modes or settings

No regulation for safety (we'll get to that)

Pretty much no way of ever breaking (including being dunked in a bath)

One major requirement- a seriously solid knowledge of physics
It really is the oats base versus your elaborate luxury granola. Muesli with clustered oats, roasted, blanched nuts, dried cranberries, sun-drenched raisins, freeze-dried strawberries and chia seeds? Still nothing without the oats that make the base. Mechanical mods are a similar deal. You press the fire button and vape. While that simplicity is the same thing that SMPO pod kit users love, using a mech mod offers a lot more perks for the die-hard vaper. In fact, many consider using a mech mod the ultimate experience.
Mod- This is the bit you hold in your hand. It contains the battery, fire button and the connector on top.
Mods are important because- The atomiser (which is responsible for producing vapour) won't work without attaching to a mod.
Atomiser- The part of the device housing the coil and wick. Heating the atomizer is what vapourises the e-liquid.
REGULATED VS UNREGULATED VAPE MODS
You might see dozens of different types of vaping devices, but they mostly fall into two families: regulated and unregulated.
Regulated mods make up the vast majority of vaping devices on the market. They contain circuit boards to regulate current and control functions. Power flow and built-in safety mechanisms like overheating and short-circuit protection are all included. Variable voltage and variable wattage devices are part of this family. Examples include the SMOK Alien, Innokin Cool Fire IV and Vaporesso Target Mini.
Unregulated mods are a coil wired directly to a battery, a.k.a. mech mods. You've already seen what they lack- basically all of the features mentioned in regulated mods. Raw battery power is delivered to an atomiser with zero electronic circuitry, power adjustments or safety features. Examples include the Wotofo Phantom, VGOD Pro and DotMod Dot Squonk Vape Box.
WHY CHOOSE ONE OVER THE OTHER?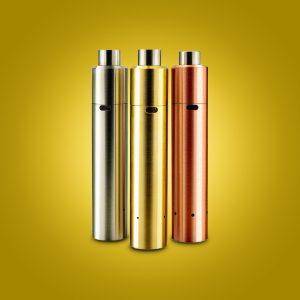 Most e-cig users stick to regulated. Put it this way. When you buy a TV, you want an out-the-box, easy-to-use experience that has a ton of features and safety coming standard. The screen comes attached to all the necessary wires, displays for channels and volume are available and all the wires inside come ready prepped. Very few people would want to build their own setup. Who these people are? Hardcore telly lovers who want total control of a device that'll never die and provides the original deal.
WHY WERE MECH MODS EVER NEEDED?
When that smart TV experiences a fault, you'll need to revert back to the vendor. They designed it, built it and are the only people who can remotely fiddle with settings (while you pay 50p a minute to listen to them reassuringly thank you for your patience). Mech mods have become a huge deal among vaping aficionados looking for easy Rebuildable Atomiser (RBA) experience, bare minimum resistance sub-ohm vaping and a truly customised experience.
"Build-your-own granola, if you will. You'll get exactly what you want tailored to you, but you need to know the details of the oats, berries and exactly how to roast the cashews."
Mech mod users love the hands-on experience that's basically building your own personalised device. Since these things are solid as they come, there's also the pro of not worrying that the device might experience a fault. Coil building might be something convenience-seeking vapers want to steer clear of, but for mech mod users, it's like all their Christmases came at once.
Test firing new coils on a regulated device can rub the firmware up the wrong way, resulting in error messages. With no chipset or firmware, mech mods were basically made for test firing. The mechanical mod itself is also generally considered to be far more durable. Equally, with no displays or safety features to run in the background, all of the battery is going towards powering up the vapour. That equates to a longer battery life. Much like that #oldskool TV you could build yourself, the mech mod has no inbuilt limitations. These things fire up any coil that's on the atomiser.
THE LIMITATIONS OF USING SOMETHING WITH NO LIMITATIONS
We tell it how it is. Want to use a mech mod? Dig out the physics textbooks. Then physically eat them to the point where you can recite Ohm's Law, amperage calculation and battery c-ratings in your sleep. Do not attempt to home-fiddle with a mech mod unless you are fully confident with this knowledge.
In 2018, a 38-year-old man from Florida died- likely because he ignored the above. The "exploding vape" that killed him caused a lot of confusion over e-cig safety. Most people still don't realise that a vaping device can only explode in two ways. 1. The same, battery related way any electronic device can explode (the risk is tiny). 2. Someone with little knowledge of science attempting to fiddle voltage or other features on a mech mod that has no safety features. For everything on battery safety, read this. Mech mod explosions are incredibly rare- in the case of battery failure, they have vents to protect against the build-up of gasses. Using a mech mod without ventilation is highly unadvised.
COILS, BATTERIES AND TANKS FOR MECH MODS
If you're going to build your own coils for a mech mod (fine-tuned resistance being the aim here), use a

multimeter

. Coils that aren't within the parameters of a regulated box will result in error. Precisely why experienced vapers go for manual control with a multimeter for good measure.
Most mech mods take 18650 lithium-ion batteries. Invest in quality ones- for your own safety. Low-grade batteries (and chargers) can overcharge and are more prone to failure.
There's no issue using a tank on a mech mod, as long as you adhere to Ohm's Law when choosing the coil size and battery capacity. It's technically possible to connect any 510 threaded vape tank to any similarly threaded mech mod. Just make sure your device is ventilated. Similarly, unless you head up the physics department at a university, resist the temptation to use hybrid top caps when vaping on a tank without a spring-loaded pin. Ditto for Sub-Ohm vaping, as the lack of safety features exposes you to battery overdraw.
Our recommendation for anyone new to mech mods is to ask. We don't hire our staff because they "have a solid sales background". We hire them because they know their vapes inside out. If they feel you're shaky on the science but can sense you want a great Sub-Ohm vaping experience, they'll put your safety first (and recommend this as your bedtime reading). If, however, you've impressed them with your swottiness, they're the ones to rec the best from our mech mod range.
For more on vaping- even if you're the exact opposite of a mech mod user and just want tasty new e-liquids or a get-me-going vape pen, check out our other blog posts or get in touch. We're on Facebook, Twitter, IG and in person at any of our seven stores. If e-cigs saving lives still isn't doing it for you (but saving money will), have your cake and eat it with our pretty epic sale.
www.vapesuperstore.co.uk contains general information about vaping and vapour products. The information provided is not medical advice, and should not be relied upon unless explicity cited. We do not make any warranties surrounding the health benefits, reliability and accuracy of written copy across all pages on our website, including blog content and content posted on social media.
---
Share this post
---